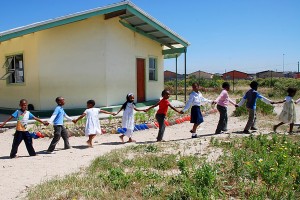 The words I kept on thinking about while reading Nullens and Michener' book The Matrix of Christian Ethics: Integrating Philosophy and Moral Theology in a Postmodern Context, are the title of this post. While visiting with one of the mothers in a village Uganda, she shared with me during conservation, noting "son, if we are going to influence our nation and continent, work with our children".
Since I have long been intrigued by ethics and their place in the lives of people on the African continent, I was set on a journey of thinking and praying about what the wise lady' counsel would entail. Although the term ethics for the most part is interchangeably used to mean morality in most African contexts; ethics fundamentally have to do with one's character.
Behavior is a prominent barometer through which character is gauged. Often times, the measuring process and evaluative process of ethics, starts with one's family and upbringing.  For example, at the site of an unruly child, many observers might ask, "how was this child raised?" For some people who are already subscribed to postmodernity, the above discussion seems antiquated.  However, people's family backgrounds matter in the world of ethics. Nuller and Michener write:
In specifically Christian-centered ethics there is a constant cycle and interplay between society, the church, and our inherited religious values. As we have noted, there is also an ongoing transfer of values and value evaluation as these are handed down from generation to generation. Values do not remain static but are dynamic. We do not get our values simply be following the Bible and the church; culture and society influence our interpretation of values stemming from these sources. There is a vast network of factors at work that shapes and governs our moral decisions and behavior.[1]
How then might a person work with our valuable, precious and also at times vulnerable children in Africa? I am here reminded of the beautiful faces of the children I recently met in Khayelitsha, a black township outside Cape Town with over 1.8 million residents in Cape Town, South Africa. It is as though Khayelitsha and Cape Town are two different places.  Khayelitsha means "new home" and that can sound endearing only if one doesn't stop to reflect on the reality of a shanty town is like.
What are ethics like in Khayelitsha? How do ethics in most 'new homes' help children to grow in a manner that their "conscience is developed as it submits to the influence of Christ, Scripture, and the faith community…?" [2] Children in Africa are so important and considered a blessing to families, villages and nations. Leaders of today and tomorrow certainly emerge from children. I am full of questions and I think that's part of the impact from studying ethics. I will not be able to ask and reflect on all my inquiries here. Yet I also found myself wondering about some of the possible ways children in a place like Khayelisha might benefit from information like Nuller and Michener' helpful categories of:
Collect relevant information, formulate the particular ethical problem(s), consider the problem in the view of the matrix of commandments, values, character and consequences, consider alternative solutions, make a decision, evaluate.[3]
Do you have any questions?
[1] Patrick Nullens and Ronald T. Michener, The Matrix of Christian Ethics: Integrating Philosophy and Moral Theology in a Postmodern Context (Colorado Springs, CO: Paternoster Publishing, 2010), 7.
[2] Ibid., 187.
[3] Ibid., 226-230
6 responses to ""Work With Our Children""