Who do you identify with?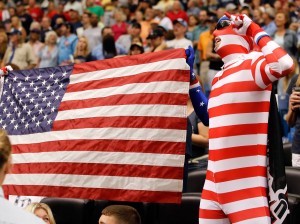 Nationalism is a sentiment upon which common cultural characteristics bind a population and produces a national independence. It is also used to describe loyalty or devotion to one's country.[1] Imagined Communities: Reflections on the Origin and Spread of Nationalism[2] by Benedict Anderson asserts that modern nations are the creation of communication networks and people's imagination. The underlying concept is that communication spreads a sense of nationalism by helping people to relate to one another. Considering the global community in which we live today, it is possible that people can form communities without ever coming into direct contact with one another. Nationalism requires that people have experience together. It has been fueled by friction (such as in the formation of America), capitalism, and common language. Anderson's book explores what makes people unite as a nation. If nations are inventions of politicians, then it will be interesting to watch the evolution of communities as communication and new developments impact the way that people come together in the future.
I found Anderson's book to be unnecessarily complex and difficult to follow at times, however it is thought provoking. "Nationalism and nationhood in all their diversity remain a major political force and social reality for the foreseeable future, requiring informed analysis and discriminating assessment."[3] "National identity is probably the most powerful force in the modern age to provide a strong 'community of history and destiny' to save people from personal oblivion and restore collective faith."[4] In light of this, we must evaluate the tension between our Christian identity and our national identity.
At creation, man was created in the image of God as His people. We weren't identified by nationality; rather we were identified as God's creation. It was only after man's fall that we were identified as different people and nations of the earth. At times, our identity as a Christian dictates that we misalign ourselves with national ideologies. I am an American, but at times I disagree with the values and traits that are associated with American nationalism. There is an underlying elitism that is often propagated in the form of American pride. 1 Timothy 2: 4 (ESV) tells us that God desires all people to be saved and to come to know His truth. God's desire for man looks beyond national boundaries, and our calling is to be a part of the global body of believers.
It is through our Christian heritage that we can unite across the barriers that nationalism often creates. Have you ever gone to a new and different place that seems foreign and uncomfortable, only to meet another Christian and experience the sense of instant familiarity? "We are all aware of the contingency and ineluctability of our particular genetic heritage, our gender, our life-era, our physical capabilities, our mother-tongue, and so forth."[5] When we move outside of this heritage, it is the Holy Spirit that creates the connection and oneness that makes us part of the greater global community of believers. Christ's community isn't an imagined community, rather it His plan for our redemption.
Who do you identify with?
[1] nationalism. (n.d.). Dictionary.com Unabridged. Retrieved January 15, 2015, from Dictionary.com website: http://dictionary.reference.com/browse/nationalism

[2] Anderson, B. (2006). Imagined communities: Reflections on the origin and spread of nationalism. London: Verso Books.
[3] Themelios: Volume 21, No. 3, April 1996 (1996).
[4] William Storrar, "'Vertigo' or 'Imago'? Nations in the Divine Economy," Themelios: Volume 21, No. 3, April 1996 (1996): 5.
[5] Anderson, B. (2006). Imagined communities: Reflections on the origin and spread of nationalism. London: Verso Books.
10 responses to "Who do you identify with?"