We find blessings in the most unusual places.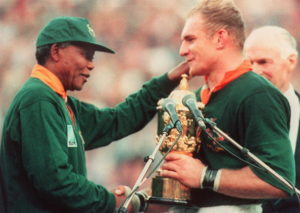 Nelson Mandela was discriminated against and made to suffer for fighting an evil system of racial discrimination; who would ever have thought that he would become the world-renowned and respected moral and political leader and an international role model to many? He won the Nobel peace prize for his successful struggle against the Apartheid regime in South Africa and won the presidency of his country. From the darkest abyss of suffering in prison for 27 years, his values system was refined to produce one of the greatest leaders of our time. He is a great inspiration to many to stand up for what is right and to fight evil. Similar and inspiring is the story of Desmond Tutu; he also lived through the struggles of the oppressive apartheid regime of South Africa as a clergy yet kept his integrity and led the reconciliation process in South Africa that sought to restore both the victims and villains of the apartheid regime of South Africa, through the Truth and Reconciliation process (TRC). Tutu was appointed chairman of the TRC by Nelson Mandela when he came to power. The TRC process has been acclaimed as a first of this kind of process, where some of the greatest victims of apartheid. Nelson Mandela and Rev. Desmond Tutu respectively initiated and led the great process of restorative justice.
Mandela, in his autobiography, Long walk to freedom, writes the story of his struggle against apartheid but also the story of being transformed from bitterness through forgiveness.[1] This is a book that he wrote while in prison with many setbacks, including losing the first draft of the manuscript and having to rewrite it again. Mandela, a lawyer in training joined the African National Congress to join in the struggle against apartheid, which he ascribed to peaceful means. Mandela says that he soon realized that peaceful means would not work, and he endorsed violence against the government and was later arrested and put into prison for 27 years. While in prison and under so much suffering, he came to the realization that bitterness against his enemies was only hurting him, and he had to forgive them to make progress. Tutu, in his book, No Future Without Forgiveness, he explains the process of the Truth and Reconciliation Commission.[2] Tutu illustrates how the South African TRC helped move the country from despotism and its ills to democracy. He reflects on the profound wisdom he gained by helping usher South Africa through this painful process. He asserts that reconciliation cannot be achieved by denying the past but rather should move forward with honesty and compassion to build a newer and more humane world. He presents a bold spirituality that acknowledges the horrors people can inflict on others but retains a sense of idealism about reconciliation. Tutu brings up an interesting aspect of restorative justice as opposed to retributive justice and relates it to African ubuntu that seeks to restore; he says,
"We contend that there is another kind of justice, restorative justice, which was characteristic of traditional African jurisprudence. Here the central concern is not retribution or punishment. In the spirit of ubuntu, the central concern is the healing of breaches, the redressing of imbalances, the restoration of broken relationships, a seeking to rehabilitate both the victim and the perpetrator, who should be given the opportunity to be reintegrated into the community he has injured by his offense… Thus we would claim that justice, restorative justice, is being served when efforts are being made to work for healing, for forgiving, and for reconciliation"[3]
One of the characteristics highlighted by Tutu about the TRC process was the fact that the offenders were first and better served while the victims had to wait longer for state reparation; and also pointed out that this was limited to the specific task of reconciliation and not the permanent way of giving justice. He acknowledges that there were many indices that demonstrated victims' satisfaction with the process despite the fact it was not practical to compensate them but rather get state reparation.
From the two authors, the power of forgiveness is clearly demonstrated, which is also a key teaching aspect of spirituality. The natural reaction that the suffering inflicted on Nelson Mandela and fellow South Africans through Racial discrimination should have been revenge which would have destroyed the country. Still, these two great leaders choose the path of restorative Justice. As Christian Leaders, we are called to restore and reconcile people back to God through repentance and forgiveness of their sins. These great lessons were learned the hard way by these great leadership icons, and we should learn from them. As we travel to South Africa for the September Advance, I cannot wait to visit Cape Town to visit Robben Island to see the prison that shaped such a great leader and international Hero. It's a reminder and a great lesson that even in suffering, God works all things for good when we surrender ourselves to Him and allow Him to mold us as leaders. It is also true that great leaders are not necessarily born. Still, there are molded through the challenges of life as they overcome hurdles and difficulties that they encounter and face life with a positive attitude. This is not common knowledge, and I acknowledge that these are great books that I will add to my reference Library and share with other leaders that I am mentoring.
[1] Mandela, Nelson. Long Walk to Freedom: The Autobiography of Nelson Mandela. (New York, USA. Back Bay Books, 1995)
[2] Tutu, Desmond. No Future Without Forgiveness. (New York, USA. Doubleday, 1999).
[3] Desmond Tutu. No Future Without Forgiveness, Pg 54 & 55.
4 responses to "We find blessings in the most unusual places."