This Blog is 55% Better Than Previous Posts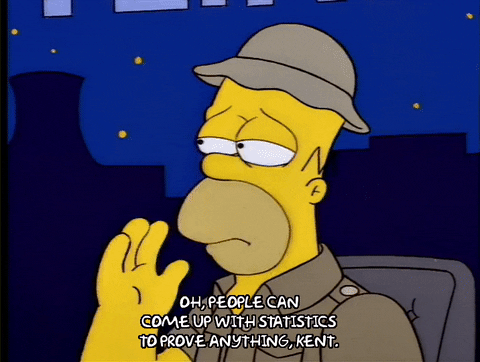 My first call out of seminary was pastoring a small bedroom community church.  Several attempts were made by me to start an adult Sunday school class using my newfound theological knowledge. No.One.Was.Interested.  I decided to come at it from a different angle; use entertainment to garner interest. Gospel According to the Simpsons' was a hit! There's great fodder for theological reflection on culture, society, and human relationships in the Simpsons'.  And who doesn't like to be entertained?
How to Read Numbers: A Guide to Stats in the News (and Knowing When to Trust Them) by Tom and David Chivers works to challenge those who devour news reports to be careful when ingesting numbers and statistics.  Their argument for caution is tethered to their statistical and science backgrounds/research; scientists and journalists often unwittingly (and intentionally for some) utilize numbers incorrectly or misleadingly.  They present a smorgasbord of ways to understand how people create and use numbers, including anecdotal evidence, biased samples, absolute and relative risk, demand for novelty, cherry picking. How to Read Numbers offers its readers knowledge in a 10-part strategy to understand statistics/percentages/ratings found in the news.  If scientists and journalists happen to learn a thing or two, and can admit they are wrong, that would just be icing on the cake for the Chivers'.
How to Read Numbers, blessedly, was an easy read (as long as I did not attempt to understand the "maths"). Admittedly, I found myself not terribly interested in all the facets of how numbers are misused that they painstakingly present. Instead, my thinking focused on the nature of humanity which creates the systemic need that scientists and journalists seem compelled to satisfy. Chivers' consistent tie to the "publish or perish" angst, and the human hunger for excitement/novelty, certainly begs the question of what is underneath. As I thought back to A Failure of Nerve, Freidman makes the argument that out of a system's chronic anxiety, leaders feel pushed to be experts.  The search for more information/statistics has become an addiction. The anxious need for more data creates more data, which leaves us with data junkyards being scavenged by data junkies.[1] It seems humanity is in a cyclical feeding frenzy; one must publish or perish, or at least feed the anxiety with sensationalized stories. The church is not immune from this anxiety.  Statistics aside, traditional ecclesiology is not perceived as thriving.  The need for a quick fix grounded on more data has whipped up many a pastor to read more how to books, attend more church growth conferences, and sign up for multiple leadership classes. Friedman says, "yet everywhere in our society, the social science construction of reality has confused information with expertise, know-how with wisdom, change with almost anything new, and complexity with profundity."[2] I wonder if church leaders stepped off the data deluge treadmill, we could take a step toward lowering chronic anxiety and, in turn, help reduce the need for sensationalism.
Chivers' talked about "cherry-picking" information to bolster the agenda of the researcher or journalist.  Immediately, I thought about the correlation to what preachers do; they preach one sermon.[3]  When done well, it is unified by the entirety of scripture, but when it is done poorly, it is by "proof-texting" (pulling a scripture out of context to prove the message of the sermon). Whether numbers or scripture, it seems the agenda shapes the interpretation.  Again, I feel compelled to ask:  how does systemic anxiety shape the agenda of the agenda makers? Chivers' would argue that humans crave "problems with identifiable causes and solutions."[4] Kahneman would add that our system 2's innate laziness will initially be satisfied with causal thinking, for it seems to satisfy the anxious need for a quick fix.[5]
After finishing How to Read Numbers, I had to ask "so what?" Chivers' unpacking of the ways journalists/researchers have handled numbers lazily, and the impact on public knowledge of numbers, pushed me to ponder how the same issues infiltrate the church. Lazy pastors have nurtured an uninformed/malformed community of faith that longs for a sensationalized Jesus. I am given the opportunity and responsibility to challenge those in my charge to engage in effortful thinking and purposeful relating with the Triune God.  I am realizing my leadership requires constant self-differentiated engagement that balances effortful thinking with thoughtful responses to the anxiety of an entertainment/sensationalism seeking culture. If I encourage the community to thoughtfully engage entertainment by pushing past the surface toward thinking critically and theologically, The Gospel According to the Simpsons' will be 40% more likely to be integrated into spiritual growth (and I have the statistics to prove it).
[1] A Failure of Nerve. Friedman pages 103-107
[2] Ibid, pg 104
[3] https://www.thegospelcoalition.org/article/eugene-peterson-preached-one-sermon/
[4] How to Read Numbers. Pg.4
[5] Thinking, Fast and Slow, pg 114-115
17 responses to "This Blog is 55% Better Than Previous Posts"