I stand on the bank of the raging river outside of Knowing's Edge, watching the stream rush by before me.  The gurgling of the water flowing before is both enticing and terrifying.  I'm not entirely sure how long I've been at the inn – it feels like a long time, and yet not long at all.  In that time, I've watched as each of my companions had a moment of breakthrough and untied one of the boats in the small inlet nearby.  We simultaneously celebrated their respective revelations and mourned their leaving us, blessing them as they paddled their boats into the rushing waves of the unknown.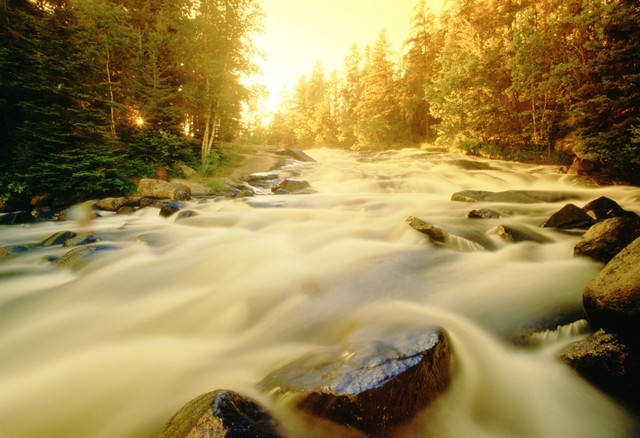 New travelers arrive, coming and going.  They share their stories, where it is they come from and how they arrived at Knowing's Edge.  Their stays are never the same, but they eventually leave.
And yet I'm still here, waiting for my breakthrough.
I crouch down, sitting in the tall reeds along the bank.  Pulling a cattail out by the roots, I begin to stir the small stretch of calm water before me, staring at my Reflection.
"They've all left you," my reflection says to me.  "On to bigger and better things. And yet here you are."
"They had their revelation," I reply, suppressing the surge of anxiety that tries to mount in my heart.
"But why haven't you?"
"I…don't know.  They said it comes in time and that it is best to live in the tension."
"But you don't believe that, do you?  You're one of action.  You don't belong at Knowing's Edge.  You belong back in your Tower."
Despite my best efforts, anxiety takes hold.  The pull to the Tower – something I haven't felt in the presence of my former companions – returns.  I cast a glance over my shoulder and the fog surrounding the inn clears just long enough for me to catch a glimpse of the Tower.
"Go back.  Here, at Knowing's Edge, you are an imposter.  You're not like the Explorer or the Artist or anyone else who has passed through here.  You're above them – an Expert!  Go back to who you were – no, who you are."
The Reflection's face twists into a Shadow of itself.
The Tower beckons.
The Shadow rises in me, calling me out for the Imposter that I am.  It's right, though.  Who did I think I was to even begin this journey?  I'm no Pilgrim.  I'm no Artist, no Explorer, no Entrepreneur, no Peacemaker, no Mystic, no Designer, no Pastor – hell, I'm not even an "Expert" (as I've been told at every step of this Journey).
How am I anything but an Imposter?
The Shadow grins wickedly, knowing that it's hooks have found its mark and have sunk in deep.
"Follow me." I pause, listening.  It's that soft voice, a voice that I haven't heard since the beginning.
"Go back." 
Follow.
"Go back."
Follow Me into the Unknown.
We always stand at a crossroads in our Journey.  The Call to Return sits in the back of our mind, waiting for us at our most vulnerable and our defenses are down.  It bellows, berates, and beckons us to return to where we once were, a place where at one point we had security.
The second path is the Call to the Trust.  It does not bellow, it does not berate, but it invites us to the next leg of our Journey. It is a voice of peace; a quiet whisper that does not coerce, but in the simplicity of its command we cannot help feel drawn toward it.
Neither can force us to continue or retreat.  We can always stay on the Edge, waiting and waiting.
But the Breakthrough will happen.
Slowly, I make my way to the inlet and sit in the boat.  The speed of the current seems to pick up immediately, pulling and straining at the mooring line.  It takes effort – more than I would have thought – to untie the knots holding the boat in place.  It takes all my strength to hold onto the rope, anxiety trying to overwhelm me.
In the distance, the Tower glows, calling for me.
And then I let go, the current sweeping me away.
Images taken from:
https://www.houzz.com/products/flowing-water-in-rushing-river-provincial-park-near-kenora-ontario-print-prvw-vr~123549488
https://www.pxfuel.com/en/free-photo-irvrz
10 responses to "The Shadow"