The Love of Christ Compels Us to Understand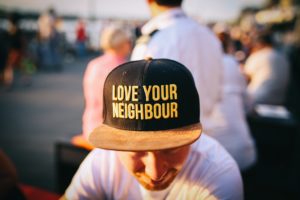 "Did they really just say that!?"
I pulled over at the nearest Starbucks and turned the radio volume to full blast. "No, they couldn't have said that!" I begged my senses to recompose and leaned in to hear more. Their two voices boomed through my shock as they repeated their diatribe.
"Yeah, Mike! You heard me right. If Britain could get rid of the Nazis, why can't they do the same with the Homosexuals?" Yep. You heard right. A 'Christian' talk show just compared those in the LGBTQIA community to white supremacy. I copied their names, the details of their show and resolved to report them for hate speech. However, reality soon hit, and I realized that this mindset was not simply exhibited by few but was upheld by many.  For years, I've heard it preached, "Society is failing because of culture"; however, I realized that the greatest issue was not the changing dynamics in society, but the extreme perspective of those within the church.
Rachel Held Evens, author of Searching for Sunday: Loving, Leaving and Finding the Church, confesses:
I didn't stop going to church after the Vote Yes On One campaign, but I stopped being present. I was too scared to speak up in support of LGBT people, so I ignored my conscience and let it go. I played my role as the good Christian girl and spared everyone the drama of an argument. But that decision – to remain silent – split me in two. It convinced me that I could never really be myself in church, that I had to check my heart and mind at the door.[1] 
Each week, we are graced with the presence of diversity within our pews and within our lives. We have transgender people, gender non-binary individuals, gays, lesbians, intersex, and asexual in our sanctuaries. However, most Evangelicals are still arguing about issues, and not offering a relationship.
I've met many leaders who post affirming verbiage in regard to the LGBTQIA community; however, they don't view them as people, but as political agendas. This strips people of their personhood. Affirmation is more than idyllic rhetoric; it's a real-life relationship. If we want to influence; we must first seek to love and understand. This is why we must go beyond the basic presumptions of homosexuality and seek to understand the fullness of the LGBTQIA community. I've taken the liberty to provide a brief overview of definitions and terms.
LGBTQIA Glossary and Definitions:
Gay– A sexual and affectional orientation toward people of the same gender.[2]
Lesbian– A woman whose sexual and affectional orientation is toward the same gender.[3]
Cisgender– The prefix cis- means "on this side of" or "not across." A term used to call attention to the privilege of people who are not transgender.[4]
Intersex – People who develop primary or secondary sex characteristics that do not fit "neatly" into society's definitions of male or female.[5]
Nonbinary– A gender identity that embraces the full universe of expressions.[6]
Transgender– A person who identifies with a gender other than that the gender they were assigned at birth. (This includes Trans-female and Trans-male.)[7]
Asexual– Person who does not experience sexual attraction. They may or may not experience emotional, physical, and/or romantic attraction. Asexuality differs from celibacy in that it is a sexual orientation, not a choice.[8]
Loving people can only come from understanding them. If we don't seek to understand, then we make presumptions and pat ourselves on the back for pretending to embrace diversity. In a recent article by ET Live, the writer gave her readers a glimpse into the lives of Portia De Rossi and Ellen DeGeneres. De Rossi reveals, "It is good to be loved. It is profound to be understood."[9] Love is not the same as understanding. Taking the time to understand someone takes time. It takes energy. It takes us surrendering our presumptions and choosing to learn from another's perspective.
Countless churches perpetuate the mindset, The Bible says it. That's the end of it. However, countless scriptures advocate the death penalty, slavery, and polygamy, yet we've learned to interpret contextually. We've fought for integration, we've marched for equality and we've spoken out against white supremacy. However, in the 21st century, we're still debating if those in the LGBTQIA community should be granted our time and given our approval.
I had the privilege of interviewing Pastor Colby Martin, author of Unclobber: Rethinking our Misuse of The Bible on Homosexuality. He reveals, "My journey away from Conservative Evangelicalism was met with fear and frustration from others in our church. I discovered that many Evangelicals hold their beliefs with such clenched fists that they fear and violently resist any questions or challenges to their convictions."[10] Our convictions come at a cost.
William Loader, contributor of Two Views on Homosexuality, the Bible and the Church, suggests that even Jesus was met with unwarranted disgust and dismissal. The author reveals, "The need to engage both Scripture and experience…goes back to the beginnings of the Christian movement. On each occasion there was controversy… to some degree this already played a role in Jesus' conflicts with his contemporaries …"[11] Jesus' choice to love was countercultural and controversial. His life was given as a ransom for many, for the homosexual, the transgender, the heterosexual, the intersex and the Pharisee. Are we willing to do the same?
[1] Rachel Held Evans, Searching for Sunday: Loving, Leaving, and Finding the Church (Nashville, Tennessee: Nelson Books, 2015),61.
[2] "LGBTQIA Terminology," https://lgbt.ucsd.edu, accessed March 14, 2019, https://lgbt.ucsd.edu/education/terminology.html.
[3] Ibid.,
[4] "Education," https://lgbt.ucsf.edu, accessed March 14, 2019, https://lgbt.ucsf.edu/glossary-terms.
[5] Ibid.,
[6] Ibid.,
[7] Eli R. Green and Erica N. Peterson, "Glossary of LGBTQIA Terms," http://lbgtrc.msu.edu, accessed March 14, 2019, http://lbgtrc.msu.edu/wp-content/uploads/2014/11/Glossary-of-LGBTQIA-Terms.pdf.
[8] Ibid.,
[9] Jackie Willis, "Ellen DeGeneres Says Portia de Rossi 'understands Me completely,' Looks Back at Their Marriage Vows," https://www.etonline.com, August 10, 2017, https://www.etonline.com/news/223482_ellen_degeneres_recalls_portia_de_rossi_marriage_vows_she_loves_me_for_everything_that_i_am.
[10] Colby Martin, Unclobber: Rethinking Our Misuse of The Bible on Homosexuality, (Louisville, Kentucky: Westminster John Knox Press, 2016),12.
[11] Preston M. Sprinkle et al., Two Views On Homosexuality, the Bible, and the Church, (Grand Rapids, MI: Zondervan, 2016),46.
10 responses to "The Love of Christ Compels Us to Understand"