The Influence of Evangelicalism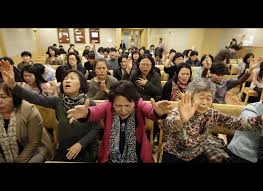 Prior to emigrating to South Korea, I had very little opportunity to gain ministry experience. Although I had studied Theology up to Master's level, my opportunities for ministry remained limited to what they were prior to ministry training: helping to lead worship and teaching children the Scriptures. As much as I enjoyed these opportunities for service, no one told me I could do anything else, and certainly my college never encouraged me to pursue God's calling, whatever that was.
However, upon moving to Seoul, I found myself immersed within completely different worlds, culturally and spiritually. Being invited to serve on the pastoral team in a multi-ethnic megachurch in the heart of a global city, provided me with opportunities to serve God beyond my expectations. Suddenly, I was actually allowed to do things I would never have had the chance to do back home in Wales: preach, teach small groups, and even lead discipleship ministries. I was thrown into a dynamic, Evangelical and international Church and was pretty much allowed to do whatever I wanted, ministry-wise. For the next ten years I began to see about how God was working in this part of the world, and as Sunquist correctly explains, I witnessed a real passion for overseas missions among Asian Christians. Our church alone had the ambitious aim to send 10,000 missionaries overseas by the year 2010.
As Lewis points out, large multicultural cities (and I believe churches) have great potential for influence.[i] I saw this with my own eyes as my senior pastor did everything he could to foster a passion for God and the concerns of His heart among the young expats who worshipped at this church. For example, as Lewis explains, one of the downsides to globalization is the emergence of an international sex trade.[ii] Pastor Eddie spearheaded the way in girding up expat Christians to fight against this great injustice. By the time these believers finished their work contracts and returned home, he had done everything he could to ensure that they carried God's heart of missions and justice back home with them.
In the chapter entitled 'Asia', Sunquist explains how Christianity in Korea is largely Evangelical, which is most certainly is, and how other Asian nations including Taiwan and Vietnam not so, in part due to the secularisation of those nations[iii]. But what Sunquist failed to point out is how secuarlization is now influencing Evangelical Christianity in Korea. With the greatly improved standards of living after the Korean Economic Miracle this past forty years, many pastors lead churches with mixed motives. Think about it: if a small church in Korea is considered 5,000 people, you can imagine the amount of money that passes through their hands. It's a temptation that sadly, too hard to resist for some. Even the great Yonggi-Cho has fallen into this trap. I am afraid of what will become the Evangelical Christianity in this country if this pollution of Christianity isn't soon addressed.
I thoroughly enjoyed reading Global Evangelicalism with its reference to Evangelicalism in many parts of the world. Now that I've returned home to Wales, I feel like I have a responsibility to bring this little piece of experience God gave me to assist the Church in my country. I have tasted the passion for missions and discipleship. I have seen what God can do with ambitious faith. And I am witnessing Asian Evangelical Christians coming to Wales to help the Church here. In the city next to us, a Singaporean Church has bought a closed Bible College and is working to reopen it. On the other side of our town, a group of Korean Christians is ploughing much-needed money into a struggling seminary to keep it out. Asian Evangelicals are now coming to us. And Lord, may they come!
[i] Donald M. Lewis and Richard V. Pierard, Global Evangelicalism: Theology, History and Culture in Regional Perspective (Downers Grove, IL: IVP, 2014), 77
[ii] Lewis and Pierard, 78
[iii] Lewis and Pierard, 225
8 responses to "The Influence of Evangelicalism"