The Cry of the Tiger Mother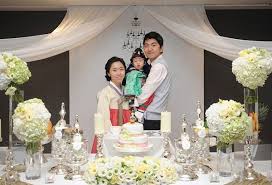 "My goal as a parent is to prepare you for the future – not to make you like me." [1]
A South Korean baby's first birthday is celebrated much like a wedding. Invitations are sent out to family and friends, a beautiful venue is hired, a lavish meal is prepared, and gifts are expected. The baby wears an exquisite bok, and the pinnacle of the event is what the baby will pick up in their hand from a table of various items, indicating their baby's career destiny. For example, if the baby picks up a pencil or book, he or she is forecast to become a scholar. A child who picks money or rice will become rich. If the bible is chosen, the child will become a pastor, and if the child chooses the stethoscope, they will become a doctor. And so on.
The ambition of Asian mothers as described in Battle Hymn of the Tiger Mother is most certainly not a Chinese phenomenon. Korean mothers are, generally speaking, exactly the same. A baby's first birthday exemplifies well the mindset of many South Korean parents: how their minds are already set on what career path their child will follow. The better the career, the more proud the parents will become of their child.
Chua's story is a familiar one indeed, experienced even within my own family and friend circles while I lived in South Korea. On numerous occasions, my stepson Ben would bring his Korean friend, Daniel, to our home for some peace and rest. His mum was a tiger mother and David feared her. The pressure he experienced at home with his grades was too much for him sometimes, and so Ben would just allow him to stay over whenever the stress was too much.
My Eurasian step-daughter is a product of this culture too, being the most driven young woman I know. Anything less than an A grade reflects on her emotional health and attitude towards life as a whole. She is soon graduating from her Master's Degree from King's College, London, and will immediately enter into a banking internship that she has competed hard and lost friends for.
I've seen four-year-old children attend 'Hagwons' (learning institutes) until 10pm. It's not an unfamiliar sight to see school children walking around on the streets late at night still in their school uniforms, all because they too have been attending numerous institutes straight from school. It's not uncommon to hear of youths in South Korea being driven to the brink of suicide because of all the pressure they face at home from their parents to excel. Parents will mortgage their homes to make sure they can afford to send their children to the best Universities, preferably in America. And on that one day each year when high school children are sitting their final exams up and down the country, determining their College destiny, millions of families are praying that their child will succeed in securing the best places.
While it is true that many children do excel because of this pressure, there is most definitely a downside. While no doubt there are many Sophias, there are also many Lulus, who, having achieved what their parents desired, set off to College with a distorted identity. Their sense of acceptance by their parents, their understanding of how much their parents love them, hinges on how well they perform. It's a merit-based system of love and acceptance, which not all Asian children can clearly handle.
[1] Amy Chua, Battle Hymn of the Tiger Mother (London, UK: Bloomsbury Publishing Plc, 2011), 49
6 responses to "The Cry of the Tiger Mother"