Talking to God…and Him Talking Back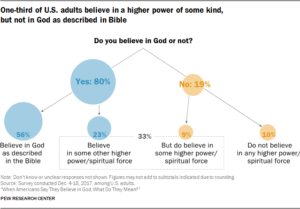 Finally!!! Finally!!! Finally!!! T.M. Luhrmann's book, "When God Talks Back" was a bible-based book that actually came with biblical perspectives all throughout it. Did I agree with everything the author said? Of course not; however, I did find many places of clarity regarding the Evangelical movement that are very helpful for understanding many of the Christian-based churches that have been popping up over the years. As I mentioned in a previous post of mine…Clarity is always good.
I was concerned at first, because the Preface began with statistics that I believed conflicted with some of my own research regarding "Belief in God" and "Interpretation of God." Though my counter-teaching to some of these can be found in the links in my bibliography, I will not fight that monster here. However, I would like to make this caution; there are so many statistics and articles, which for the basis of selling books or magazines, can sometimes be very tainted in their data finding skills. Furthermore, when we as ministers seek to make a point, sometimes we tend to only use the parts of that research that behooves our topic, and then we discard the rest. I feel as though the early estimates given in the reading did some of that. 
Now to the part that moved me in this reading. I have had many frustrating conversations over the years with people who whole-heartedly declared, "God told me to do it." Leaving aside the fact that many of those conversations included acts that completely contradict lessons in Scripture, the fact was that because they felt a strong compulsion to do something, it must have been God leading them to that fact. A few examples: 
            God told me to leave my wife…He knew she wasn't good for me.              God told me to quit my job. God told me he wanted me to be happy, so I should make more money. God came to me in my sleep and told me to follow this prophet.
Do you have any idea how hard it is too teach someone that has been convinced that if God "TOLD" them something, that it may not actually be God speaking to them…but the 'other guy' Now don't get me wrong, I can think of many examples that some of the above propositions may be valid…but that is not the point. Luhrmann addressed this inability for newcomers to understand the God "with whom you have back-and-forth conversations with throughout the day[1]." The solution: "these Christians are asked to develop a new theory of mind[2]." When our discussion last week included the concept of "cults," it seems prudent to make sure that words of speech like this one are very clearly explained. For myself, I understand what the author is trying to say…though again, I am not willing to admit that I agree with this concept in its entirety. However, I would like to clarify something for the sake of argument:
The best conversation I have ever had was 2.5 hours long and took place in my car at 11:30 at night; and I was alone…and yet, I wasn't. It was a long day working on my M.Div and I had a 3 hour drive home. The radio couldn't get loud enough to keep me from falling asleep; the cold air gushing into my face was not cold enough to keep me awake; and the extra large bottle of Mountain Dew was not potent enough to keep me from falling asleep…I needed help! So I turned off the radio, rolled up the window, and realized later, I had even stopped drinking my Mt. Dew…and I prayed. Not just some little prayer either, I prayed out loud as though God was sitting in the seat next to me. I talked about school, church, my wife, my kids, my struggles, my blessings, and even the aches and pains that were shooting throughout my back. But then…I prayed some more. I prayed for my sisters, parents, best friend, and obstacles I was facing with the youth ministry in the church I was working at…which led me to pray for my youth group. When one conversation ended…I just went right into another one. Nearing the end of my drive, the prayer was much more conversational than liturgical; and that was when I asked "THE" question. I said, "Lord, I regret that we do not have the opportunity to hear you talk back to us like Abraham and Moses did. However, if you ever decided to talk to me, I will listen!" As soon as I finished that sentence…literally at that moment…I was stopped at a red light in town that I knew in fact was sensor triggered. No other cars on the road…it was now past 1 am…and I am stopped at a red light. But then I heard it…it grew louder and louder. I heard it through my car window as I searched to find them…the chorus of birds that were singing. I rolled down my window, and there on the sidewalk was one single 12' tree that barely looked strong enough to hold up the leaves on it. In that tree there had to be 100 birds though…singing this beautiful chirping song. 
I looked up to the sky and said, "Thank you! I enjoyed our talk tonight." 
I believe in listening for God to speak. However, I also believe the warnings that come with scripture that must be instilled in those we teach. 
Galatians 1:8-9"But even if we, or an angel from heaven, preach any other gospel to you than what we have preached to you, let him be accursed. As we have said before, so now I say again, if anyone preaches any other gospel to you than what you have received, let him be accursed."
Hebrews 1:1-4 (NKJV) "God, who at various times and in various ways spoke in time past to the fathers by the prophets, has in these last days spoken to us by HisSon, whom He has appointed heir of all things, through whom also He made the worlds; who being the brightness of Hisglory and the express image of His person, and upholding all things by the word of His power, when He had by Himself purged our sins, sat down at the right hand of the Majesty on high, having become so much better than the angels, as He has by inheritance obtained a more excellent name than they." 
1 Corinthians 14:33 (NKJV) For God is not the authorof confusion but of peace, as in all the churches of the saints.
We must remind those we teach that God does not contradict His own Word. He does not allow prophets or teachers to change or twist the message of truth that He has provided for our salvation. In the links in my bibliography, you will find that there are many that hold to the believe that God…or some supreme deity is still out there in charge of things; however, you will also find that many of those do not believe it is necessary to cling to His Holy Word for guidance. The very reason I am writing my dissertation on baptism is because I believe churches are leaving the necessary teaching surrounding the true nature of baptism behind. Whatever we do and practice, to truly say that "God has led me," or "God spoke to me," we must not forget that God does not contradict His own instruction…therefore, nor should we. 
Bibliography
Fahmy, Dalia. Key Findings about Americans' Belief in God.April 25, 2018. http://www.pewresearch.org/fact-tank/2018/04/25/key-findings-about-americans-belief-in-god/ (accessed February 14, 2019).
Luhrmann, T.M. When God Talks Back.New York: Vintage Books, 2012.
Newport, Frank. Most Americans Still Believe in God.June 29, 2016. https://news.gallup.com/poll/193271/americans-believe-god.aspx (accessed February 14, 2019).
Noll, Mark A. The Scandal of the Evangelical Mind.Grand Rapids: William B. Eerdmans Publishing Company, 1995.
Saad, Lydia. Record Few Americans Believe Bible is Literal Word of God.May 15, 2017. https://news.gallup.com/poll/210704/record-few-americans-believe-bible-literal-word-god.aspx (accessed February 14, 2019).
Weber, Jeremy. Christian, What Do You Believe? Probably a Heresy About Jesus, Says Survey.October 16, 2018. https://www.christianitytoday.com/news/2018/october/what-do-christians-believe-ligonier-state-theology-heresy.html (accessed February 14, 2019).
---
[1]Luhrmann, T.M. When God Talks Back.New York: Vintage Books, 2012. P 39.
[2]Ibid, p 40. 
4 responses to "Talking to God…and Him Talking Back"