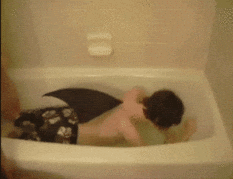 There is a widespread myth that sharks must continually swim or they will suffocate to death.  In truth there are only about two dozen species[1]—including the Great White, the Whale Shark, and the Hammerhead shark—that have a need to be on the move.  They have what is known as "obligate ram ventilators," meaning they must continually force water across their gills to breath, usually accomplished by swimming; in moving they stay alive.
My knee jerk response to our assigned reading, Evangelicalism in Modern Britain, by D.W.Bebbington, was "ugh not church history". I then called to memory how much I learned in the church history class in seminary. Swim or suffocate is a good analogy, if we don't move through our history and glean the important pieces like: it helps us understand the Bible better to avoid theological mistakes[2], resist being captivated by fads[3] and reevaluate common church practices[4], without forward motion, the church may indeed suffocate.
Bebbington unpacks the historical journey of Evangelism in Britain beginning in the 1730's. His survey of this movement thoroughly recounts the sway Evangelism has on society as well as how Evangelism has modulated from its first emergence due to the contexts of its adherents. It is this church history that Dr. Jason Clark utilizes as foundation for his argument that capitalism has invaded the Evangelical movement and has, if not effected, at least affected the faithful/spiritual lives of those who would call themselves Evangelicals in his dissertation, Evangelism and Capitalism: A Reparative Account and Diagnosis of Pathogeneses in the Relationship.
Although Clark touches on the quadrilateral of conversionism, activism, biblicism, crucicentrism that Bebbington depicts as the priorities of Evangelism[5], Clark's tether in chapter 2 is to the activism quadrant (the manifestation of one's faith in action). He makes the argument that the strong enfolding of the doctrine of assurance (through conversion, one receives the gift of permanent salvation and becomes aware of this gift) is related to how one lives out their activism.  As one has assurance of salvation  that occurred through the enlightenment period.[6] Clark paints the inevitability that assurance modulated into the doctrine of providence by forces of emerging capitalism.[7] I am not sure if Clark makes the further leap to the prosperity movement but it seems that is clearly where it would lead.
As a pastor in Protestant, non-evangelical parish ministry I find that the dynamics of consumerism and capitalism are very much in play with not only members of the church but those whom we hope to  reach with the gospel. The ways churches engage today in or understand what it looks like to be a church clearly has a heritage from the modulations of the Evangelical Movement.  It is important to address the consumer identity of our humanity; this is how humans often approach faith, scripture, picking the church we want. We see the act as a product or purchase and pull out our checklist of likes, desires, what feeds our wants.  If the church stops gratifying or satisfying our deal breaker lists or makes us uncomfortable, we move on to find another church…another group…or turn to our own things that "feed us".  I wonder if the shark analogy can be applied to "church shopping"?
Bebbington and Clark remind us of the dynamics that shifted communities from church/state identity to separation of state and individual.  Something they hint toward, but I am not sure it is fleshed out, is how these theological shifts created an ethos of separation of church and life. A major concern for me as a pastor, is how to lead a faith community that does not grasp importance of being the body of Christ together.  The capitalist/consumer identity, albeit subconscious, has broken down the heart of being Christian community. Humans live in disconnected silos, constantly running back and forth, and in between.  How do I help them find life by living entirely in God?
I started off talking about the sharks that find life by forcing water across their gills usually by swimming. But swimming isn't the only way to accomplish finding breath.  If a shark finds a strong current, they can also find rejuvenation while hoovering and breathing. The theology of shark-breathing reveals it isn't always swim or suffocate, sometimes it rest and rejuvenate.
[1] https://poseidonsweb.com/some-sharks-have-to-swim-to-survive-but-most-dont/#:~:text=OBLIGATE%20RAM%20VENTILATION%3A%20WHEN%20SHARKS,–%20"obligate%20ram%20ventilation."
[2] https://www.knoxseminary.edu/blog/5-reasons-to-study-church-history
[3] https://www.reformation21.org/blog/six-benefits-of-studying-church-history
[4] Ibid.
[5]Bebbington, D.W. Evangelicalism in Modern Britain as cited by Clark, Jason Paul. n.d. "Evangelism and Capitalism: A Reparative Account and Diagnosis of Pathogeneses in the Relationship," 2018. Page 52.
[6] Ibid. Page 53, 59.
[7] Ibid. Page 56
16 responses to "Swim or Suffocate"