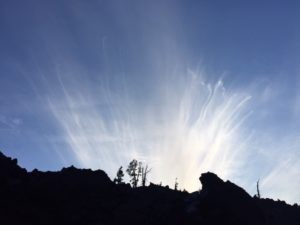 Every July or August, for the past nine years, I have spent weeks packing and preparing to make my way to the small, East African country of Rwanda. I distinctly remember returning from my first mission trip in 2011 and my husband asking me what my big takeaway was. I told him, "In Rwanda I discovered a piece of my heart and a sense of being home."
Over the past 9 years, this little country with its complicated history and extremely resilient people has captured my heart. Traveling there has become part of my life rhythms, much like daily prayer and bi-annual spiritual retreats. In many ways, my time in Rwanda is a pilgrimage. For me, it's a place where the veil between heaven and earth disappears and the glory of God is most evident.
Due to the pandemic, travel to Rwanda was not possible this year. Instead, I found myself searching out and walking local labyrinths and hiking many miles on various wilderness trails. I didn't realize how all these pieces fit together until I was backpacking in the Sisters Wilderness one weekend in August. In the chaos of the pandemic and economic downturn, I was searching for a place of grounding, a place where God's presence felt evident. My spirit longed to experience nearness to God, and so I sought God through the steady movement of my feet.
Some of my favorite passages in scripture are written in John 14-17. Here Jesus is preparing his disciples for his death. In doing so, he tells them he is going to prepare a place for them and will return for them (John 14:3). He then moves into the metaphor of the vine and the branches, instructing them to remain in him. He uses the word remain eleven times, emphasizing the importance of dwelling in him (John 15:1-13). Then Jesus invites the disciples into the most intimate of spaces when he prays to his Father, asking that those who belong to him would be one, as Jesus and the Father are one, that unity would exist amongst them all (John 17:11, 20-23).
Jesus knew his people would want to follow after him. He knew we would desire to walk the roads he walked and sit in spaces where he sat. He knew we would want to be present in places where heaven and earth collide, where sandals are kicked off and holy ground is stood upon. Remember Peter atop that mountain with Christ, wanting to pitch some tents and stay for a while?
While these mountain top moments are important, even of great transformative value, they are not where we are called to live. Jesus invites us into something more. As Jesus walked in the valleys, he was centered down in God, observing, listening, eating, and interacting with creation. In his days and ways, Jesus remained present in the moment. His quest wasn't to discover new landscapes or seek holy ground, but rather to see anew the landscapes where he normally resided while also residing in God.[1] Jesus modeled how to exist in the spaces in-between, in this place of now and now and now. It is here Jesus reveals to us what it means to be human, embracing his finiteness while comprised of flesh, bone, breath, and death.
During his Camino pilgrimage, Archbishop of York, Stephen Cottrell, wrote these words regarding the in-between places of this world:
Between A and B there is a vast space.
But with eyes on the road, and a brisk pace,
you'll never see it. It is warm and slow.
It finds the contours of the land, and goes
the same speed as you. If you make your goal
the destination then you'll never know
how to travel well. Oh, so much misery
is heaped upon the world by those who move
quickly and think only of the end.
Another way is waiting. And all that
it requires is what you've already got:
time, candor, and a sturdy pair of shoes.
Between A and B there is space. It is
here. And now. It is your life. If you choose.[2]
On this pilgrim's journey, may I choose well, with eyes ready to see anew the land where I reside, and a heart willing to center down in the Divine and abide. Always. Amen.
[1] Diana Renner and Steven D'Souza. Not Knowing: The Art of Turning Uncertainty into Opportunity. (London, UK: LID Publishing, Ltd., 2016.) 216-217.
[2] Stephen Cottrell. Striking Out: Poems and Stories from the Camino. (London, UK: Canterbury Press Norwich, 2018) 15.
14 responses to "On Pilgrimage"