Numbers: Can I Trust Them?
When I read the title of the book for this week's blog post I cringed. I'm not very good with numbers. When I went to my bookshelf to retrieve, How to Read Numbers, by Tom Chivers and David Chivers it was not there. I hadn't purchased the book! Maybe I was in denial and holding onto a desperate hope that a book with the word numbers in the title was not really required for this course. I fear math and avoid numbers! I prefer my information in quick, easily digestible, interesting, and truthful snippets. If the information comes with numbers or scientific proof all the better. I want to believe the hard work and critical thinking has already been done for me. As our reading revealed, that belief is unwise. Numbers stand for something. They often represent people or things that are important to people.[1] Since I love people and my NPO is about understanding the needs of ministry leaders, it is important I understand the meaning of the numbers I encounter on my research journey.
Math Fear Revisited
In graduate school I was required to take two number-related courses. Tests and Measurements followed by Program Evaluation tested my less than stellar math skills. I experimented with two computer programs designed for collecting and analyzing data. I attempted to understand variables, validity, reliability, mean, mode, and median, etc. My entire cohort was chanting, "B's get degrees!" all year long. I became reasonably proficient at understanding statistical information, reading graphs, and recognizing good research studies. After reading much of this book I am questioning what remains of that ability. To read that the authors, their high-level math students, and most people in general, don't consider themselves good at math, was a relief.[2] I still don't believe I am good at math. I have absolutely no idea what is going on in the impressively mathematical picture below. Possibly nothing of significance!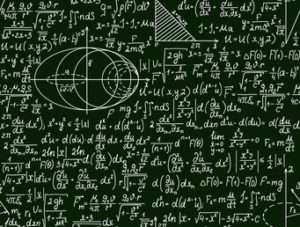 The Truth about Numbers
Can numbers lie? If the way numbers are presented and interpreted can be a lie, then I say the answer is, yes. Vaclav Smil, author of, Numbers Don't lie, agrees with the premise of our book, numbers can be misleading.[3] I like this simple summation best, "To get an accurate view of the world, we must place numbers in the proper context and understand how they were calculated."[4] I want to know what's true. Even when the truth is unpleasant or unexpected. Noticing what information might be misleading or missing raises my curiosity. Yet, I still worry about my gullibility and biases toward the topic I am researching. Refreshing my skills and checking the numbers helps me discern what information needs a closer look as I seek to understand the context of my NPO. I can't number check everything! As I begin my research, I keep these wise words of Albert Einstein in mind.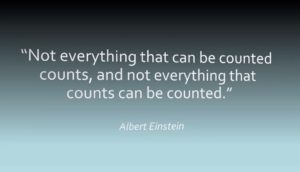 Anecdotal Evidence and Small Sample Size
I like to give others the benefit of the doubt. I don't discount a personal story. What a person experiences, is true for them. It may be true in some way for others, or not at all for many more. I can sit with a person's truth without arguing against it or becoming uncertain of my own. I enjoy gathering this kind of information as it creates connection to the person and their story. It helps me understand their needs. However, a single person's experience does not support a scientific claim.[5] I take in this information differently. I receive it for what it is. It reminds me to sit with the ambiguity and uncertainty of not knowing no matter how much of an outlier an experience may seem.
My NPO relates to the experiences of ministry leaders. My sample size is only thirty ministry leaders and their spouses. Much of the data I collected last fall was anecdotal utilizing a self-reported and anonymous survey. It is a random sample from a very specific population. I think this is an advantage. The stories I heard and the information I collected matter to my stakeholders. As ministry leaders shared their experiences, we all listened and resonated deeply. The information gathered was pertinent as the experiences were common and predictable among the group.[6] Coding self-reported surveys was a little nerve wracking, but the information gathered was clear when visualized in pie-chart graph. I am taking a broad look at a problem with a small number of people. I am pleased to discover a body of literature that corroborates my findings.
Can I trust the numbers? Yes, numbers don't lie. However, numbers can be manipulated by those who are either misinformed, intentionally trying to deceive, or presenting information they want to believe.[7] The responsibility for sorting it all out rests with me. I must consider how well I read numbers, which numbers are important to notice and why, and how well I present them to others. Two helpful tips stand out to me moving forward: always give my sources and admit when I am wrong.[8] I will look more closely at what numbers represent and which numbers are truly important to understand. With anecdotal information, I must be aware of biases or cherry-picking tendencies on my part as I look ahead toward my project. Following the research and the needs of my stakeholders is my primary goal. I am doing this research on their behalf, not for my own benefit, or to prove a point. The numbers I collected last October in Malaysia have been shared with my stakeholders. Seeing their own numbers has already made an impact. All information is useful. Even unremarkable and boring information serves a valuable purpose in helping me discover what is true, false, unknowable, and important enough for my full attention.
[1] Chivers Tom and David Chivers, How to Read Numbers. (London, UK: Weidenfeld & Nicolson, 2021), 2.
[2] Chivers, How to Read Numbers, 2.
[3] Ibid., 7.
[4] "Numbers Don't Lie," Shortform 1-Page Summary, accessed February 5, 2023. https://www.shortform.com/app/book/numbers-dont-lie
[5] Chivers, 15.
[6] Ibid., 16.
[7] Ibid., 115.
[8] Ibid., 169.
14 responses to "Numbers: Can I Trust Them?"