When my daughter was growing up, she had a new favorite Disney princess just about every year. Snow White, Cinderella, Jasmine, Merida, Rapunzel, Elsa, Moana, Pocahontas – they all made the rounds in her list. She takes after my husband who has a new favorite song or movie every other week. I tend to find my favorite and stick with it. My favorite Disney Princess is Belle and she has been my favorite for over thirty years. I love her independence, ingenuity, kindness, and ability to see beyond the outward appearance of others. Plus, she loves to read. Belle remains my favorite, but I enjoy immersing myself in the other stories. I love the songs, the characters, the magic of it all. I call Disneyland my "happy place."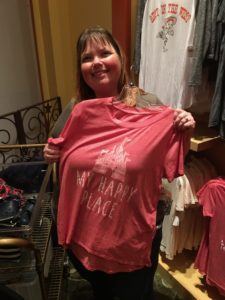 Five years ago, my husband was out of the country and it was just my daughter and I at home. On November 7, 2018, there was a mass shooting at a local bar, Borderline Bar and Grill. The next day, we found ourselves in the path of the Hill Fire. We evacuated to a nearby hotel only to be evacuated once again in the middle of the night due to the Woolsey Fire. So, what did we do? We donned our tiaras and went to Disneyland for several days. In his book Spellbound, Daniel Z. Lieberman talks about the impact of reading Fairy Tales on the unconscious mind. He writes, "The altered state induced by stories has been compared to meditation and has some of the same benefits: less stress, greater self-esteem, and lower rates of depression."(1)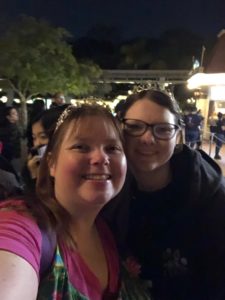 My daughter and I went to the perfect place for us to reduce our stress. That is until we decided to watch her favorite show, Fantasmic!. I forgot about the pirate ship, the smoke, and the cannon shots. As I was watching, I could feel a panic attack coming on and I had to get out of the crowd. I told my daughter where to find me after the show and went to sit down and work on my breathing. Once the show finished, she came and found me and sat with me until I was able to stop crying. Then she said, "I know what you need. You need to go on Small World." We went to my favorite attraction and by the time I got off the ride, I was over my panic attack and in my happy place once again.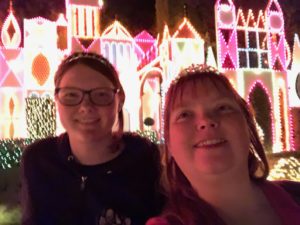 What is it about Disneyland and fairy tales that captures my heart? Why do I still, as a woman in my late forties, dress up and don my tiara any chance I get? Lieberman writes, "Fairy tales aren't like other stories because fairy tales speak directly to the unconscious."(2) He further writes, "An intellectual interpretation of fairy tales is not the same thing as actually reading them, and the reason for this difference is that there is something special about the way stories affect the brain."(3) When I go to Disneyland, I am immersed in the fairy tale. I am able to come to a place of child-like joy. I am reminded of the beauty and possibility in the world.
At the beginning of his book, Lieberman asks the question, "What if we could learn how to recognize the influences of the unconscious, and make it an ally in helping us become who we were meant to be?"(4) I think that embracing my love of Disney and fairy tales has helped me to recognize these influences. I am learning to let go of the opinions of other people that for so long held me captive. I view the world through a different lens. As I have learned, I have leaned into who God made me to be and I am finding that I can love myself.
"The knowledge to be gained is not about the outer world, but also ourselves; the wealth to be unlocked resides within."(5)
[1] Daniel Z. Lieberman, Spellbound: Modern Science, Ancient Magic, and the Hidden Potential of the Unconscious Mind. (City: Publisher, 2014), 141.
[2] Ibid., 122.
[3] Ibid., 138.
[4] Ibid., 1.
[5] Ibid., 143.
10 responses to "My Happy Place"