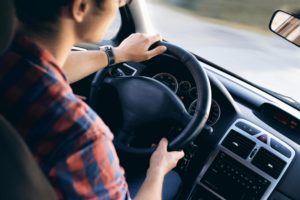 I wondered while watching the TEDx video if Dr. Coven has the gift of prophecy as he described the idea of a threshold concept as he used the example of a new driver learning to drive. My son is 17 and about to embark on in-car driving lessons. However, the journey to get him to this point has been wrought with his rebukes of taking the actual lessons. He has lots of great reasons why he shouldn't take them (or continue getting his driver's license at all) like he's happy taking the bus, he doesn't really need to drive anyway and my personal favourite: I can just drive him.
Recently he confessed that he watches his mother and I drive and all the things we're doing at one time like turning on the wipers while changing lanes, taking our foot off the accelerator and simultaneously looking over our shoulder when turning right to ensure there isn't a cyclist approaching. This seems overwhelming to him.
However, he doesn't yet know what lies for him on the other side of having his license.
Dr. Coven was experiencing this with his students in a sort of manner. They were understanding the answer but not having a grasp of the concept. Kind of like showing your work in math class. They weren't showing their work. His solution was to teach them how to do primary research, come up with conclusions and test their theories.
So I began a test this past week. Anytime my son had to go somewhere like school or band practice and had to take the bus, I would say to him, "How long do you think it would take if you drove there?" He would pull out his phone and use Google maps to get an estimate. He would tell me "I know, it's faster driving, who doesn't know that. I still don't want to learn to drive."
However, when he arrived home, and he would immediately head to the kitchen for food I'd stop him and say "Now how long would it have taken you to drive home and stop to get something to eat?" or "What time would you be home if you wanted to stop at your friend's house?"
Now, his mind has to work differently because like Dr. Coven's students, he can't just Google how long it would take to stop and eat and would it still be faster than taking the bus. He can't easily Google how long he might hang out with his friend. Because Google can't tell you what the freedom of a driver's license gives you. He has to imagine what that might be like.
My NPO summary question is "How do leaders share their vision to create authentic alignment in their organization?" I took particular interest in chapter 10 of Overcoming Barriers to Student Understanding because as I have been researching this problem, I keep running across the theme of worldview and paradigm shifting. When you picture alignment, perhaps you envision a team of rowers in perfect unison. Maybe your more pragmatic and the idea of your car's wheels being out of alignment comes to mind and the extra effort it puts on your vehicle.
The example used of cash accrual and actual profit is eerily similar to the lack of awareness leaders seem to have with their vision. Whereas there is a need in accounting to be able to account for the ins and outs of cash on a particular day in the ledger and that piece of information does not tell you if the company was profitable or not is just like the leader who shares their vision but not their experiences of why it is authentic to them. Their lived experiences may not add up to their vision but it certainly gives a picture of how they got there.
But so often only a part of the story is being told and it's due to a lack of paradigm. Almost a reluctance to, with earnest, paint the whole picture, even the bits that are just the ins and outs of money on a given day.
Questions I will consider for myself:
What pieces of information do I know the answer to but do not know the equation for? How can I find out the equation and how can I ensure I seek the equation without bias?
What does primary research look like in my NPO journey?
What are leading indicators to track so I can know when there is a threshold I need to cross?
9 responses to "Learning why to drive"