Leadership: Embracing the Uncomfortable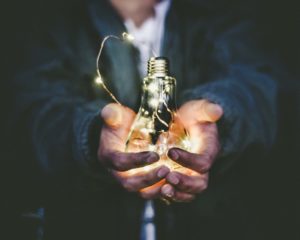 All of us strive to find the right tool, the right method, and the right resource to lead us to that next level of leadership. However, in the midst of our endless quest, we find ourselves more frustrated and more disjointed from our intended purpose. Why? Perhaps, it's because "…studying leadership is way easier than leading."[1] Dr. Brené Brown, research professor at University of Houston and author of five #1 New York Times Bestsellers[2], challenges us to understand that leadership is paradoxical. In other words, "Our ability to be daring leaders will never be greater than our capacity for vulnerability."[3] This type of vulnerability is not tied to a false idea of victimization or clothed in false pride but a challenge to live bravely along our journey.
Vulnerability requires us to face the music, so to speak, and to understand how our personalities, assumptions, and expectations impact others, and ultimately ourselves. Dr. Brown recounts a story where she was brought on the carpet for her lack of time estimation. I couldn't help but chuckle because I could easily identify. She starts by taking a stance of teachability and listening to the team, she then apologizes, and lastly, she seeks to understand. Brown explains:
Apologizing and backing that up with behavior change is normalized in our organization from onboarding. While some leaders consider apologizing to be a sign of weakness, we teach it as a skill and frame the willingness to apologize and make amends as brave leadership.[4]
I've had to apologize more than once to my team for overestimating our time management expectations. However, I've learned that through these moments of vulnerability, I've come to embrace these fractures and implement better tactics for healthy balance within my own life and the lives of my team members. I realized that my desire for 'project execution' wasn't conducive with my team's schedule, ability, nor health. In other words, I was driving my team to perform under pressure because of my own fears of failure. In order to hold myself accountable, I've created a larger board, delegated more tasks, and put off launching our second summit until 2020. This has enabled me to live more balanced and not put undue pressure on my team.
Most leadership is driven by hierarchical structures, so the idea of cause and effect are not necessarily considered by most companies nor most ministries. However, I would venture to state, that the majority of leadership issues stem from a lack of understanding and perpetuation of assumption. Leadership begins with reflection and ends with formation. Leaders must enable all people the space to be vulnerable and transparent. If they don't, then they create a company dependent on the leader's portrayal of perfection, instead of the organization's mission. This creates a false sense of inaccessibility and invincibility that sets organizations up to fail.
My whole thesis is centered on why Millennials and Generation Z are leaving the doors of the sanctuary; however, I don't believe that the antidote lies within the pastor's performance, but the pastor's health. This is why fellowship is so important. We usually understand this term as a noun; however, when we see it as a verb, it takes on a new meaning. Koinoneo, simply means, "to become a sharer, be made a partner, to join one's self to an associate."[5] What if we truly fellowshipped? What if we partnered and shared one another's the burden? What if we created space for pastors and leaders to be vulnerable? This will require us to change our perception of leadership to horizontal and create our positions within the church as equal. In order to create strong churches, we must create strong leaders, which requires us to create strong spaces of vulnerability and transparency for both the congregants and the pastors. Hence, we need to acknowledge the humanity within leadership and stop placing the blame and/or sole responsibility on pastoral leadership.
According to Brené Brown, "Leaders must either invest a reasonable amount of time attending to fears and feelings, or squander an unreasonable amount of time trying to manage ineffective and unproductive behavior."[6] For years, the church has been a safe haven for congregants and a witch hunt for pastors. If we truly want the church to progress forward, then we must take a step back and give space and care to our pastoral leadership. When we force pastors to become the heart and soul of the church, we put the emphasis on their strengths and weaknesses, instead of Christ's scars.
So, how do we change the narrative? How do we create an epidemic of vulnerability within leadership, especially within the Church? The first step is to embrace your reflection. This past year has been trying, to say the least. I've dealt with heart issues, worked tirelessly to secure LOUD's 501c3 status, and be a caretaker to my incredible parents. My life is not my own. However, I believe that it's only when we realize this that we can operate from a healthy stance of leadership. We're not enough, we will fail, we will disappoint, and we will succeed. However, our effectiveness as a leader is not contingent upon our CV, but our willingness to be centered.
Dr. Brown, author of Dare to Lead: Brave Work. Tough Conversations. challenges us to lead from a place of transparency in order to create structures of authenticity. She challenges us to understand that leadership begins with the willingness to fail, to face our fears, and to confront the person in the mirror. It begins and ends with vulnerability.
[1]Brené Brown, Dare to Lead: Brave Work, Tough Conversations, Whole Hearts (New York: Random House, 2018),4.
[2]"Brené Brown About," https://brenebrown.com, accessed April 11, 2019, https://brenebrown.com/about/.
[3]Brené Brown, Dare to Lead: Brave Work, Tough Conversations, Whole Hearts (New York: Random House, 2018), 11.
[4]Ibid., 58.
[5]"The NAS New Testament Greek Lexicon," www.biblestudytools.com, accessed April 11, 2019, https://www.biblestudytools.com/lexicons/greek/nas/koinoneo.html.
[6]Brené Brown, Dare to Lead: Brave Work, Tough Conversations, Whole Hearts (New York: Random House, 2018),67.
7 responses to "Leadership: Embracing the Uncomfortable"