Fig Leaves Then. Performance Now.
A few weeks ago, I attended a community luncheon that revolved around mental health awareness. The goal was to break stigmas around psychological and emotional health issues and provide more resources for churches in our area. During the event, some pastors and members in the community shared their experiences of rejection and shame for experiencing anxiety and depression as Christians. These individuals felt like they had no one to talk to and when they were finally desperate enough to reveal their struggles and show others "the backstage" portion of themselves, leaders and people within their congregations responded in ways that were either unhelpful or judgmental. Back to this portion in a bit.
Simon Walker's book Leading Out of Who You Are hits several notes that challenge me as a person and leader while also stirring up some legitimate questions about vulnerability.[1] It challenges me to keep striving and growing to live and lead in a such a way that builds trust with those around me, especially my wife and kids who really have a backstage pass to my life. The theatre analogy used in this book by Erving Goffman is helpful to illustrate what we do when other people are watching and the duplicity it can create if we are not careful.
Ideally, it would be great if we lived in a world where we could rip the curtain that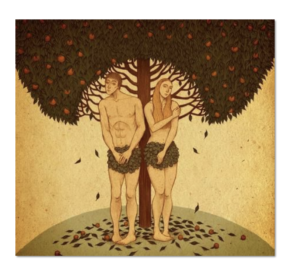 divides the front stage, the part everyone sees, from the back that is hidden from the world. Imagine living in a community  where people didn't run or shutdown when they heard our uncensored doubts, fears, struggles, perspectives, views, desires, or insecurities. Where we could live naked and unashamed like our primeval ancestors did before they consumed the tree of the knowledge of good and evil and began making judgements of what and who is good or bad. I believe Walker's book, along with the Genesis narrative, points to the reality that we are all yearning for authenticity and unconditional acceptance that is not based on performance but pure being.
Being loved because we exist is a concept that is beautiful in theory, but foreign to most of us in practice.
This must be why the kingdom of God makes us so uncomfortable and why we spend so much time and energy making fig leaves to cover our undesirable parts and work endlessly to earn approval. Jesus in Matthew 20 tells the parable where the person who worked for one hour gets paid the same as the others who had been working all day. What?! That's not fair! That's not how our world works! Jesus also has the audacity to say in Matthew 5 that we should love our enemies, not because they deserve it, but because of who we are, children of God. God shines on the just and the unjust, the righteous and the unrighteous because of God's nature and character, not as a response to the recipient's actions or performance. God loves because it is God's nature. Period.
Simon reminded me of these passages when he was encouraging leaders to anchor their identity in a source that is secure, not one that wavers based on our performance or abilities. This is crucial for our identity. The secure identity we find in God, and are praying to develop in our own selves, is what I believe both Walker and Edwin Friedman, in Failure of Nerve, are getting at when it comes to leadership. [2] Our being. Who we are is largely shaped behind stage which AGAIN leads me to prayer and asking myself some questions of self-examination.
What faulty, shortsighted, or distorted belief systems, theologies, or worldviews, that I currently hold, need my attention right now? Who can best help me find my blind spots?[3]
Is there a disconnect between how I perceive I lead, act, and respond and what people are experiencing with me?
What are my genuine motives in this project, action, ministry, and NPO?
Is my life singing the same song as my words?
Back to my first paragraph about the pastors and congregation members who shared their feelings of shame and rejection when they finally mustered the nerve to be vulnerable and show others "backstage". These scenarios further illustrate why people stay in "wardrobe" or "character". Why we continually feel the need to keep sewing fig leaves to cover ourselves.  These are not universal responses in the church or Christian circles, but they happen more than they should and there are still labels connected to "church people" that are lingering like "judgmental", "intolerant", and "self-righteous". Once again, I don't think this is universally the case, but hearing these stories and many others in the same vein makes me pause and wonder, "What are we doing wrong?", "What am I doing wrong?" What kind of environments and mentalities are we creating that make people feel so unsafe or hesitant to be vulnerable in Christian spaces?
There was a lot of discussion that day on who to share our mental struggles with to protect ourselves from rejection, rightly so, but I couldn't help but think we need way more discussion in faith communities on how to respond when we share our true selves with one another. Would love to have thoughts on this in the comments of how to better respond when people let us "backstage". I think we all want to see the labels attached to Christian communities grow towards "non-judgmental", "safe", "home", "reliable", "loving", and "trustworthy".  Seems like a simple idea, but would appreciate peoples perspectives or practices around this issue.
[1] Simon P. Walker, Leading Out Of Who You Are: Discovering the Secret of Undefended Leadership (Carlisle, UK: Piquant Editions Ltd., 2007).
[2] Friedman, Edwin H., Margaret M. Treadwell, and Edward W. Beal. A Failure of Nerve: Leadership in the Age of the Quick Fix. (10th anniversary revised edition. New York: Church Publishing, 2017).
 [3] Wedell-Wedellsborg, Thomas. What's Your Problem? To Solve Your Toughest Problems, Change the Problems You Solve. (Boston: Harvard Business Review Press, 2020) 31.
14 responses to "Fig Leaves Then. Performance Now."