An Egalitarian in a Complimentarian World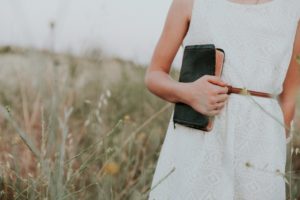 Welcome to the montage of Christian dialogue – a blistering didactic that bears the scars of experience, the endless boxes of research and the ultimate quest for conversion. We've all starred into our opponent's eyes – peering into their soul and questioning the validity of their argument. However, most of us have not sought to understand their perspective, but simply debate their talking points. I've been on both sides of the debate. I grew up in a conservative Baptist church, shifted to a lively Pentecostal gathering, delved into expository rhetoric at a Calvary Chapel and then caught glimpses of God's face amongst varied denominations. Each experience painted the canvas of my perception of Christ, ministry, interpretation, and personal calling. Hence, my understanding of Women in Ministry is not simply doctrinal or denominational, but personal – it centers around my story, my interactions and my understanding of God's design.
I remember raising my hand and whispering my questions amongst the onlookers during Bible College. "I understand that you don't believe in women being pastors, but what areas are women allowed to participate in the church?" The room grew silent; however, it was the calm before the storm. All the male students arose from their chairs and shouted, "1st Timothy! 1st Timothy!" My question was not only dismissed; my voice was silenced. I was one out of three women who attended the preaching course; however, the other two were more interested in becoming a pastor's wife, than becoming ministers. I was the lone ranger. The one who was verbally abused, put in my place and dismissed because of my gender.
Now, I know what you're thinking. This was because I was in a conservative church. Nope. Years pass, and I found myself in the midst of an egalitarian utopia. Or so I thought. I entered the church doors and basked in the light show. Everyone was friendly and everyone was welcoming. However, I soon found out that everyone was welcomed just as long as they remembered their place and 'acted' like their gender. The pastor refused to meet with me, all teaching positions were given to men, and those who did speak were married to male pastors in the church and were required to filter their words through their husbands. I remember attending one Sunday morning and the pastor preaching about relationships. I was 28 at the time, not dating anyone, yet living fulfilled as a vibrant Christian single woman. However, the pastor spouted from the pulpit, "If you're not married by the age of 30, then you're nothing but a dried-up old turkey." I couldn't believe my ears. The only role that a woman was allowed to fulfill was to be married. She still was expected to have a male covering.
Many people question why Millennials and Generation Z are leaving the church, but they don't see the abuse that comes against these generations within the closed doors of the sanctuary. Dr. Blomberg, professor of New Testament at Denver Seminary[1], reveals, "Western societies have been largely egalitarian for roughly thirty years; young adults coming to Christ are often shocked to discover that the church is not necessarily an 'equal opportunity' employer."[2] Sarah Bessey, award-winning blogger and writer, echoes Blomberg's revelation and suggests, "The Church has been responding to the movement of the Spirit throughout the centuries, and gender inequality is only one more example of justice seeking in process."[3] Egalitarianism has to be more than a belief – it has to be a lifestyle that echoes within every facet of the church. However, it starts with understanding that the Church is the body; not the pulpit. When we see the Church from a congregational stance, then all races, all ages, all genders, and all people are invited to contribute their gifts to the table. Hence, this is not a debate of Complementarianism vs. Egalitarianism, it's an invitation to define the Church and understand the purpose of inclusion.
For instance, Dr. Linda L. Belleville, adjunct professor of New Testament at Grand Rapids Theological Seminary[4], suggests:
Hierarchy does not work because male domination does not address the foundational human core issues of identity, dignity, and significance that can only be realized in a two-directional relationship. Relationships are hard work, requiring a context of mutual consent (1 Cor. 7:5), interdependence (11:11), and mutual submission (Eph. 5:21; 1 Pet. 3:1) to grow and thrive.[5]
The problem is not one of gender but of power.  Sheryl Sandburg speaks of this struggle in her book, Lean In: Women, Work, and the Will to Lead. She reveals, "Men are continuously applauded for being ambitious and powerful and successful, but women who display these same traits often pay a social penalty. Female accomplishments come at a cost."[6] I've preached in rooms of thousands and seen God use my stance to change hearts; however, it hasn't been easy.
LOUD Summit was born from prayer, but it was also born from necessity. I grew tired of proving myself, my ability and my expertise. I grew tired of applying for jobs and seeing men hired for the position who were underqualified yet approved simply because of their gender. I also grew tired of being told to limit myself and my voice. Sadly, the greatest obstacle to my calling has not been men, but women. Egalitarianism is more than a doctrine. It's a challenge that invites all races, all ages, and all genders to the table – it is a belief that the Church is more than a pulpit, but made up of people.
[1]"Faculty," https://denverseminary.edu, accessed April 3, 2019, https://denverseminary.edu/about/faculty/member/86444/.
[2]Linda L. Belleville and James R. Beck, Two Views On Women in Ministry, rev. ed., Counterpoints (Grand Rapids, Mich.: Zondervan, 2005), 128.
[3]Sarah Bessey, Jesus Feminist: An Invitation to Revist the Bible's View of Women (New York: Howard Books, A Division of Simon & Schuster, Inc., 2013, 30.
[4]"About Linda l. Belleville," www.cbeinternational.org, accessed April 3, 2019, https://www.cbeinternational.org/persons/linda-l-belleville.
[5]Linda L. Belleville and James R. Beck, Two Views On Women in Ministry, rev. ed., Counterpoints (Grand Rapids, Mich.: Zondervan, 2005), 102.
[6]Sheryl Sandberg, Lean In: Women, Work, and the Will to Lead (New York: Alfred A. Knopf, 2013), 1.
15 responses to "An Egalitarian in a Complimentarian World"