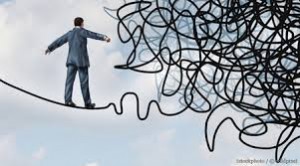 Manfred Kets De Vries's book The Leadership Mystique; leading behavior in the human enterprise was a refreshing read. Leadership is such a board subject and it is sometimes difficult to find practical material that delivers on everyday strategies on leadership. I am particularly drawn to leadership strategies that seek to encourage the development of leadership skills and capacity in people for action. The availability of faithful and trained leaders in a community increases the likelihood of problem solving in the event of certain challenges. De Vries writes, "the most effective leaders are those who can reframe complex situations. By changing how they perceive a problem, the alter what they see"[1]
In a broken and ever changing world, the structures and unjust systems seem insurmountable to address at times. Negative voices are quick to pose the question, "why even bother"? However, its the solemn duty of a leader to listen, discern and determine if certain issues are putting human worth at grave risk. Leadership calls for responses from people who are willing to exercise grace, to sacrifice and persevere in the presence of the sounds of negative voices, self-doubt and the temptation of perfectionism.
De Vries notes, "in general, resilient people deal with emotionally difficult problems proactively, reframe experiences in a positive way, have a great capacity to fantasize a more optimistic picture of the future, give themselves time for self-reflection, and work hard at maintaining a network of supportive relationships."[2]
I am a firm believer in the importance of being agile in a culturally appropriate way, with the quest for truth based solutions as the end goal. Otherwise if a corrective solution is not in focus, then why should what we do matter? Agile leaders might be perceived as strong and go-getters, but pain is one aspect that every leaders experiences in life.  It is increasing occurring to me that embarrassing positive change can be painful as well. Negative alternations are certainly miserable, but yet some degree of pain is still common to both the positive and the negative. Scripture mentions: "… we also exult in our tribulations, knowing that tribulation brings about perseverance; and perseverance, proven character; and proven character, hope; and hope does not disappoint, because the love of God has been poured out within our hearts through the Holy Spirit who was given to us."[3]
The discomforts of leadership are part and parcel of a leader's life. This is why it is important to have the company of confidants, trusted friends and a community in the life of anyone who is mindful of the need engage in any leadership role in society. Self-awareness can be helpful in enhancing one's need for humility. Iorg writes:
Our sin contributes to the pain we experience as leaders. A call to Christian leadership doesn't superspirtiualize a ministry leader. We still walk on clay feet. We still struggle with sin. Our choices impact our leadership effectiveness, and sinful choice can create painful circumstance.[4]
Above all, one' ability to trust in God for guidance, wisdom, provision and strength is indispensable. Agile leaders might face difficulties and slip but by God's grace they do get back up again.
[1] Manfred Kets De Vries. The Leadership Mystique; leading behavior in the human enterprise. (London, England; Pearson Education. 2001) 9.
[2] Ibid., 89.
[3] Romans 5:3-5
[4] Jeff lorg. The Painful Side of Leadership: Moving Forward Even When It Hurts. (Nashville: B & H Publishing, 2009) 5.
6 responses to "An agile leader"