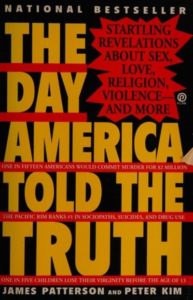 Years ago, like in the early 1990's, I read a book that was "all the rage" called "The Day America Told the Truth." After a quick internet search for it, I was reminded that it was written by a then relatively unknown James Patterson, whose books have gone on to sell over 425 million copies, and become the first person to sell one million ebooks. [1]
I don't remember much about the book, except that it got a lot of people amped up, including young preachers like myself to develop a sermon series on truth and lies. Many of the findings about American's privately held thoughts and beliefs have since been called into question due to small and inconsistent sample sizes and methods. As well, there have been questions of bias, assumptions and flawed causality (see Chivers & Chivers, How to Read Numbers).
Regardless, I think many, if not most, would agree we have a "truth problem."
Jesus, shortly before his crucifixion, stood before Pilate and said, "Everyone on the side of truth listens to me" (John 18:37). Pilate, in vs. 38, retorted, "What is truth?"
In this case, truth was standing directly in front of him.
How often do we too miss it? In what myriad of ways are we ignorant or even delusional? Bobby Duffy, in "Why We're Wrong About Nearly Everything" says "our misperceptions are wide, deep, and long-standing" (Duffy, 7). He believes we more often than not get it wrong about a variety of matters, such as, health, happiness, sexuality, morality, money, religion, safety, politics, social media and fear.
Yep, nearly everything.
Now, stay with me, because I want to try to flesh something out, and in the end I may be wrong, and am very open to having my thinking adjusted. Here I go…
Proverbs 14:12 warns us that "There is a way that appears to be right, but in the end it leads to destruction." In other words, what we think is right may actually be wrong. 
Then, Jesus, in the Sermon on the Mount, challenges "the crowds" (Matthew 5:1) with these words: "Enter through the narrow gate. For wide is the gate and broad is the road that leads to destruction, and many enter through it. But small is the gate and narrow the road that leads to life, and only a few find it" (Matthew 7:13,14).
So, what appears to be right may actually be a pathway to destruction, and we're told that pathway is wide and there are a lot of folks on it.
There is an general principle that I have discovered over and over, and it is this:  the crowd is almost always wrong.
The crowd tends to be more interested in power than it is in truth. When you put power into the hands of the crowd, it's often used for revenge and scapegoating.
Brian Zahnd says, "When a group of people perceive themselves to be slighted or wronged, displaced or threatened, they can metastasize into a vindictive crowd. When a group of people becomes an angry, fear-driven crowd, the groupthink phenomenon of mob mentality quickly overtakes rational thought and individual responsibility. The mob takes on a spirit of it own and the satanic is generated." [2]
In Acts 16, when Paul and Silas dealt prophetically and accurately with the demon-possessed fortune-telling woman, we read that "The crowd joined in the attack against Paul and Silas, and the magistrates ordered them to be stripped and beaten with rods…flogged…and thrown into prison" (Acts 16:22,23). While in prison the servants of God prayed and worshipped, and it resulted in a miraculous loosening of their chains. They were free. When the jailer, whose sole responsibility was to keep them under lock and key, discovered this, he made the rash decision to kill himself. Sword in hand. Destruction of his life and his family. Now, if the crowd had their way, they may not have stopped him. Perhaps, they may have even egged him on. Such was the discovery in "The Day America Told the Truth" when 7% of the respondents said they would kill someone for a million dollars. Sure, 7% seems pretty low, but really, shouldn't that number be zero? Thankfully, for the jailer AND his family, Paul and Silas were not a part of the crowd, because the crowd is almost always wrong.
Such was the case when the crowds chanted "Crucify him, crucify him" to the sinless Savior of all humanity. They got it wrong, and we tend to get it wrong quite often too.
Perhaps it's important for us to delineate between crowds and community.
Crowds (groupthink, mob mentality) tend to affirm our wrong thinking, and support our ignorance, misperceptions and grand delusions.
Community, however, has the power and possibility to adjust our wrong thinking, graciously correct areas of ignorance, misperceptions and delusions.
I believe The Church is a vital place for this kind of community, but here comes the rub: Duffy points out that "the only profession that has significantly dropped in trustworthiness in recent years is the clergy" (Duffy, 222) and that "half of the global public in our surveys believe that religion does more harm than good" (Duffy, 94).
I contend that one factor (among many possible others) is that The Church, generally speaking, has prioritized being "in the crowd;" more interested in power than truth.
I so badly want to keep typing and fleshing out these thoughts, but I have already exceeded my word count, so I will end with this:
Am I Wrong? 
By the way, there is a high probability that I am, because I am wrong about nearly everything.
[1]. https://en.wikipedia.org/wiki/James_Patterson
[2]. Brian Zahnd, "When Everything's On Fire: Faith Forged from the Ashes" (2021).
8 responses to "Am I Wrong?"