A Prison Blanket Perfectly Folded…9855 Times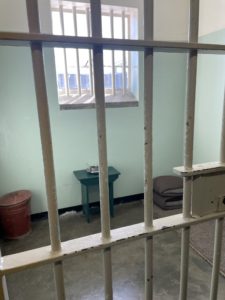 My one-minute gaze into Nelson Mandela's prison cell had a profound impact on me. That neatly folded prison blanket represented the dailyness of Mandela's life for 27 years.  The consequence of not folding a blanket to perfection in the prisons he was kept in would produce a severe beating. A leader who had already fought apartheid with force and valor for many years and had led the battle cry for freedom with perhaps a shaping leadership ego was forced to fold a prison blanket every day. It is here in the very dailyness of his horrific circumstance, in his crucible of suffering, that his leadership was formed in greater ways than anyone could imagine. "Waiting, wondering, hoping, despairing, living without ever knowing whether he would be released or done away with…"[1] A crushing occurred that refined Nelson Mandela into a "courageous moral agent" of compassion and hope.[2] A defended leader became undefended.
As I entered the pages of Simon P. Walker's book, "Leading out of Who You Are: Discovering the Secret of Undefended Leadership," I was brought face to face with my own leadership journey. I am not Nelson Mandela. My trust wanes with others. Left on my own, there is always a higher bar to jump over[3] and failure is an arch enemy.[4] My journey has been one of the "Defining Ego".[5] Disappointment is handled in secret on the backstage…alone.[6] I have found myself in the pages of this book and see how it resonates with how my NPO is taking shape. For it is in the mid to later years of life and leadership that we are often called to greater depths of self-awareness. If a leader has led in unhealthy ways, this season can be daunting.
It is often daunting because there is a lack of personal acceptance. Walker shares that what motivates moral authority, and an undefended leader, is freedom. "Freedom comes from knowing you are approved of."[7] Approval of someone loving you simply for who you are not by what you do. Romans 5:8 shows that God does this for us: "While we were still sinners, Christ died for us" (NIV).[8] With this solidity, not only can we be undefended, but we can exude differentiated leadership in a world of anxiety.[9] Walker speaks to the trust issues that derail us whereas Friedman addresses a leader's lack of emotional maturity. Both are important avenues to address in leadership that bring greater self-awareness and growth.
Kathryn Schultz in her book "Being Wrong" states "It takes courage to leave our past selves behind."[10] She also cites Michale Foucault "The main interest in life and work is to become someone else that you were not in the beginning."[11] It has often been said that 'the older you get, the harder it is to change.' Kathryn Schultz surmises that this is not necessarily true.[12] As I research my NPO, I am finding that the older we get, the ability to lean in and transform into, not only a better version of ourselves but nearer to God's intended design for us is still an ongoing need.
As I journeyed through this book, I repented as I wrestled with the performance culture I often have promoted in my ministry contexts…critiquing more than celebrating.[13] I am reminded of a book I bought a while ago called "A Work of Heart" by Reggie McNeal. He speaks of David as a man after God's own heart. It was David's honesty with God "that held the real currency of heart-shaping communion"[14] because we as leaders can be tricked and misled by our own deceived motivations. McNeal goes on to say that David did not just live a life of repentance but of praise and joy, always thankful for God's goodness during his journey.[15]
God honors our honesty in coming to grips with our leadership shortcomings.  I am challenged to allow God's refining work to continue in me daily, to reestablish trust where it is lacking, knowing that "when He has tried me, I will come forth as gold as Job 23:10[16] promises. Not perfect. Just fully human…growing in freedom and extending that freedom to others.
[1] Simon P. Walker, Leading Out Of Who You Are: Discovering the Secret of Undefended Leadership (Carlisle, UK: Piquant Editions Ltd., 2007). 8.
[2] Ibid, 9.
[3] Ibid, 72.
[4] Ibid, 76.
[5] Ibid, 70.
[6] Ibid, 77.
[7] Ibid, 102.
[8] Romans 5:8 But God Demonstrates His Own Love for Us in This: While We Were Still Sinners, Christ Died for Us. | New International Version (NIV) | Download The Bible App Now, accessed March 15, 2023, https://www.bible.com/bible/111/ROM.5.8.NIV.
[9] Edwin H. Friedman, A Failure of Nerve: Leadership in the Age of the Quick Fix (New York: SEABURY BOOKS, 2007).
[10] Kathryn Schulz, Being Wrong: Adventures in the Margin of Error, First Ecco Paperback edition (New York: Ecco, 2011). 294.
[11] Ibid.
[12] Ibid 295.
[13] Simon P. Walker, Leading Out Of Who You Are: Discovering the Secret of Undefended Leadership. 73.
[14] Reggie McNeal, A Work of Heart: Understanding How God Shapes Spiritual Leaders (San Francisco, CA: Jossey-Bass, 2000). 32
[15] Ibid, 33.
[16] "Bible Gateway Passage: Job 23:10 – New International Version," Bible Gateway, accessed February 16, 2023, https://www.biblegateway.com/passage/?search=Job%2023%3A10&version=NIV.
14 responses to "A Prison Blanket Perfectly Folded…9855 Times"