Polygones and Faithful Presence
When we moved to Lyon, our vision was to plant a church community in a community to bless the community. To that end, the five of us on the church planting team all moved into the same neighbourhood, intent on finding a location for our church in the vicinity. We immediately began daily prayer meetings and weekly services in our apartments, sharing our vision to have a presence and an impact in the neighbourhood.
One of our first members—a business student—introduced us to the idea of co-working office spaces, where people can rent individual desks in a shared office and benefit from an interactive work environment. Learning that this concept was gaining momentum in France, we decided to look for a building that would work as a co-working office Monday through Friday, and a church on Sunday. A year later, we opened Polygones, where we rent 17 work spaces to a variety of professionals including graphic artists, web-site developers an accountant, and a fashion designer.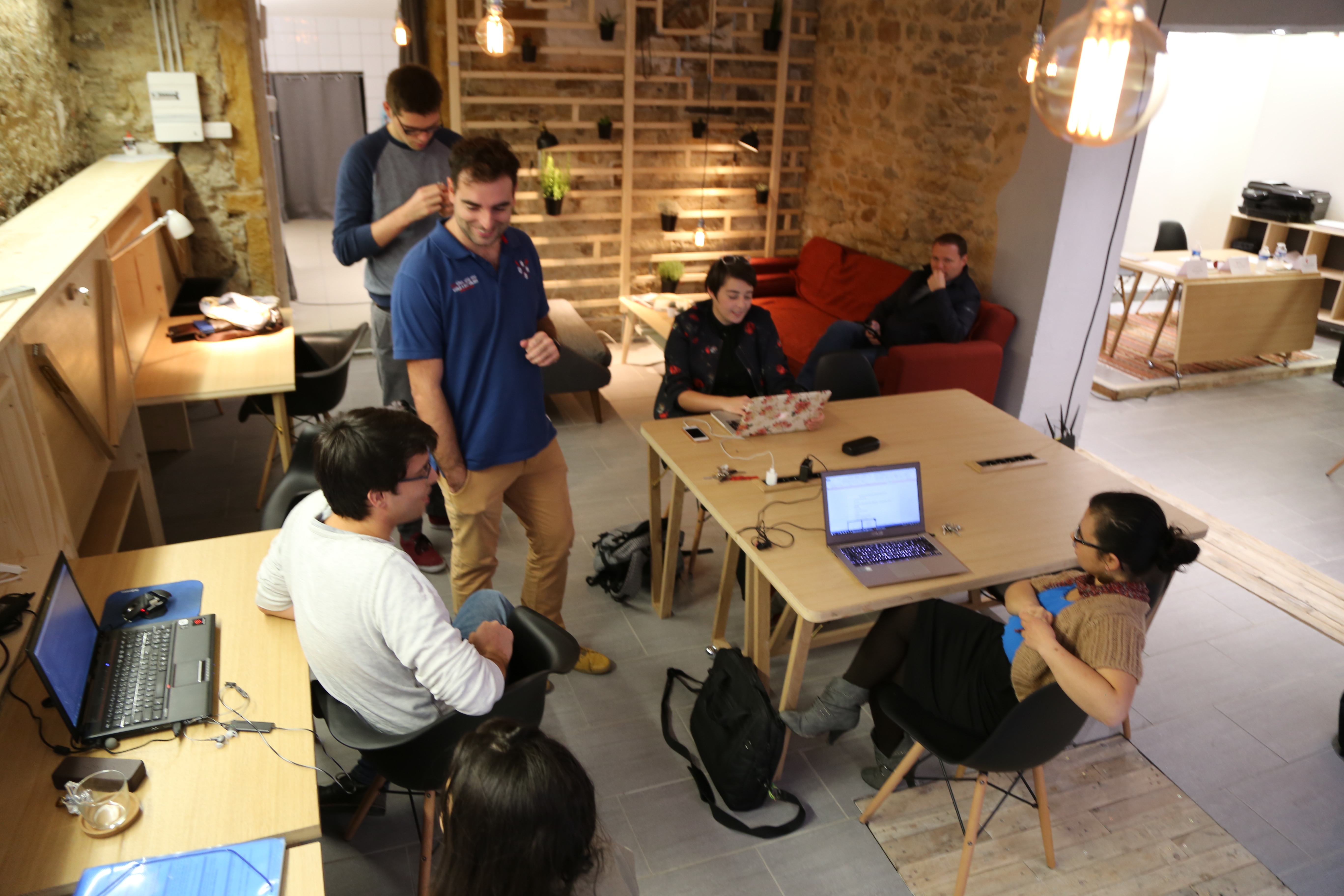 There are four of us from the church who also rent desks, and we organically move between conversations about our work and conversations about the work of God in our lives. The co-workers know that they are sharing the space with a church, and that besides having Sunday services, church members also gather in the building Monday-Friday, morning and evening, for prayer. In the morning it's primarily church members that participate in our prayer meetings, but in the evening, when co-workers are often still lingering at their desks, some of them join us, commenting on how we are not at all like they imagined Christians to be. A few co-workers have come to faith, a few more are on their way. But even those who do not share our religious convictions enjoy sharing a workplace with us. Polygones has become a place where people meet God by seeing Him at work in the day to day lives of those around them.
So when I read Hunter's book, To Change the World: The Irony, Tragedy, and Possibility of Christianity in the Late Modern World, his concept of faithful presence resonated with me deeply. "One of the most interesting parts of Hunter's To Change the World is his delineation of three basic Christian positions toward culture, politics and the world in general."[1]
I found myself nodding along in total agreement as Hunter explained that the Conservative Right tends to be "defensive against" the culture, the Liberal Left seeks to be "relevant to" the culture, and the neo-Anabaptists strive for "purity from" the culture.[2] In other words, the Right sets up for a fight, the Left settles in and gets comfortable, and the neo-Anabaptist stands apart.
Without going into the argument about which approach is "right," Hunter focuses his essays on explaining why none of these approaches actually effect significant or lasting change within the culture. To have a Christ-like impact on the world, he suggests a fourth way, an approach to culture that Hunter calls "faithful presence."
Hunter uses a passage from the book of Jeremiah to explain what he means by faithful presence. When the Israelites were captive in Babylon, God told them to build houses and plant gardens. In other words, even though they weren't living within a country and culture that reflected their own values, they were called to be faithfully present to that place. Hunter summarizes, "He [God] was calling them to maintain their distinctiveness as a community but in ways that served the common good."[3] (By the way, Hunter also pointed out that Jeremiah was considered a traitor for suggesting such a thing. The Israelites wanted to be liberated from Babylon, not settled into it!)
At the Polygones co-working office space we maintain our distinctiveness as a community not only through our daily prayer gatherings, but through the community atmosphere that we create. This atmosphere manifests itself through spontaneous opportunites to love and serve each other, as well as through a weekly potluck lunch, where co-workers spend time getting to know each other and sharing their lives with one another. In the past, people like Jonathan Edwards would evangelise by preaching "hell, fire, and brimstone" sermons. But we find that these days, people aren't haunted by a fear of the afterlife. They're too absorbed in their daily activities to be bothered with such thoughts. But they are desperate for community. And as the co-workers interact with the church members, they discover that community, and they sense that is it distinct from other communities in which they participate. We explain that the difference is Jesus. The shalom that we share at Polygones is available to anyone in the community, but we're finding that it draws people to Christ.
"Faithful presence is not about changing culture, let alone the world, but instead emphasizes cooperation between individuals and institutions in order to make disciples and serve the common good."[4]
Clearly, this is what Polygones is all about. So while I agreed with Richard King's critique that "To Change the World suffers from excessive abstraction and a lack of concrete examples,"[5] I also felt like what we were experiencing in Lyon was a concrete example of Hunter's abstractions.
[1] King, Richard. "James Davison Hunter, To Change the World: The Irony, Tragedy, and Possibility of Christianity in the Late Modern World." Society 48, no. 4 (2011): 359-62.
[2] James Davison Hunter, To Change the World: The Irony, Tragedy, and Possibility of Christianity in the Late Modern World (New York: Oxford University Press, 2010). 237.
[3] Hunter. 277.
[4] Benson, Christopher. "Faithful Presence: James Davison Hunter Says Our Strategies to Transform Culture Are Ineffective, and the Goal Itself Is Misguided.(THE CT INTERVIEW)(Interview)." Christianity Today 54, no. 5 (2010): 32.
[5] King, Richard. "James Davison Hunter, To Change the World: The Irony, Tragedy, and Possibility of Christianity in the Late Modern World." Society 48, no. 4 (2011): 359-62.
12 responses to "Polygones and Faithful Presence"