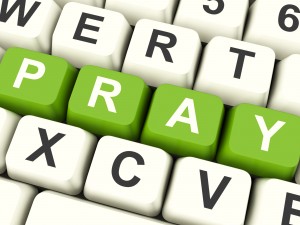 Perhaps one of the greatest joys in planting a church where we meet brand new believers is seeing how they develop their relationship with God. Coming to God with no preconceived ideas of how Christianity or prayer should be done, it's wonderful to hear how they are encountering God and a joy to affirm that what they experience, others have experienced too.
One dear member, Nancy, often relates to me pictures that she feels God gives her when she prays for others. Nancy came to know God for the first time just last May, and I've never seen anyone grow in God as fast as she. Then there's Nigel who met with God for the first time in prison three years ago. He's on fire for God and often relates dreams to me that he believes God gave him while in prayer or sleeping.
These are people who were not told how prayer should be done, or how God speaks to us, but are being taught by God Himself. Prayer is an intensely practical thing for us at Bethel Community Church. With so many people being unemployed or sick, we are often desperate for God to move among us. And thankfully He does. This is one of the things I love about Morse's book – it's so practical and yet so spiritual. As Morse writes, "From the Trinity we see the profound importance of the mystery of God's love, the sacrificing grace of Jesus' life and the Holy Spirit's abiding presence. Through prayer we connect to the Trinity…" [i]
Morse's book is littered with amazing testimonies of how God has move in people's lives in answers to prayer, of stories that reveal the love of God for His people. God knows what His people go through and He cares so deeply for us. As Paul Lyda states, "[M]y wife and I have always wondered about what goes on behind so many closed doors and drawn drapes. What challenge is that family wrestling with at this time? Although we may never know, we can offer faithful prayers that the people and families represented by those home will know Jesus who stands and knocks at the doors of their hearts." [ii]
As this man says, we may never know what is really going on in people's lives, but the amazing thing is, God knows and deeply cares. As Morse explains, our God is a compassionate, loving God [iii] who desires to help and bless His people. One way that I have experienced His tender love for others is through dreams that God gives me in order for me to intercede for them. Many times God has shown me an individual in my dreams and what exactly to pray for them. Every time I receive this kind of revelation, I know it's a calling from God to pray for that person or situation and it always confirms to me how much God loves us.
Prayer moves God. It changes circumstances, transforms hearts, and blesses lives. Prayer is probably the most effective thing we can do on any given day. These past few months, I have felt an urgent need to pray more, to desperately seek God's blessing and help for this ministry. I can honestly say that if it wasn't for the counsel of God and His Word I have received through my times of prayer, I would never have survived the past few months. Neither would have the church. Prayer is the probably the greatest calling any one of us has each day – to enter God's presence and lay down our burdens at the cross, to receive His hope and strength in return. It was also no coincidence that God gave just enough manna for the Israelites for one day at a time. Somehow God likes to keep us hungry so we'll keep coming back to Him for more.
[i] Mary-Kate Morse: A Guidebook to Prayer: Twenty-four ways to walk with God (Downers' Grove, IL: IVP, 2013), 165
[ii] Morse, 72
[iii] Morse, 66
9 responses to "A God Who Cares"