In the movie "Shrek," the ogre Shrek has an interesting dialogue with the donkey.  He describes himself as person with layers – essentially an onion.  Walker's book, Leading out of Who You Are[1], is a bit like peeling away at the layers of one's leadership personality over time. Like an onion.
Residing with the "comb of experience," the book provides me with an insight to my leadership style over last 4 decades.  The early years of front and backstage living revived old memories of trying to find my way.  I refer frequently to Poole's description of apprenticeship.[2] when I think of leadership. In the U.S. Military we are thrown into an apprenticeship period of 1-3 years.  In the process, we encounter crusty old sergeants who show us the ropes.  We learn that there is a difference in "running" a unit and "leading it." That is the first year or so.
In the next couple of years, we absorb the leadership techniques of our superior officers. In time decision making is woven into our leadership DNA.  We make decisions out of habit (for good or ill).
If we are fortunate, our decision-making skills are honed in part one of our mission, preparing for war.  For many, the environment may change to the second part of our mission, fighting the war. Differentiated leaders are needed in part two.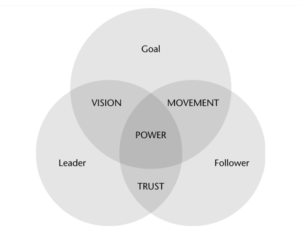 Walker's Ven diagram was new to me.  Especially when I template it over my 23 years in the U.S. Army. Trust, vision, movement and goals were musical chords that rang true to me. They also echolocated off Poole's 52 cards/attributes.
The center piece of power at the nexus of the diagram caused me pause.  Frequently, my wife has said to my children (and sometimes to me) that we can use our gifts (our superpowers) for good or evil.  As Peter Parker (Spiderman) learned, "With great power, comes great responsibility."
There are choices in the use of our power, and here comes the onion layers: personality power, resource power, experience power, expert power, positional power, physical power, and spiritual power.
Walker writes, "It is neither good nor bad to be powerful:  the issue is how power is used.  It is a question of praxis." (p.53)
So true.
The Russian Czar Vladimir Putin, the Emperor of China Xi Jinping and others that grip to their imperial nostalgia are becoming the essence of defended leaders.  Hunting down and eliminating successors, breaking down governmental checks and balances, makes them free to upset the world order.  It makes my chest tighten.
A new Cold War looms on the horizon, a hot one rages in Ukraine. The decline of globalism, isolationism restored.  All this because of the leaders, the new seekers for power, are making their play.
Clearly, I have been impacted by the "Oscar" ceremony awarding best movie this week.  I end with another movie quote…
Frodo: 'I wish the Ring had never come to me. I wish none of this had happened.'
Gandalf: 'So do all who live to see such times, but that is not for them to decide. All we have to decide is what to do with the time that is given to us.
Leaders arise!
[1] Simon P. Walker, Leading out of Who You Are: Discovering the Secret of Undefended Leadership (Carlisle: Piquant, 2007).
[2] Eve Poole, Leadersmithing: Revealing the Trade Secrets of Leadership (London ; New York, NY: Bloomsbury Business, an imprint of Bloomsbury Publishing Plc, 2017).
6 responses to "領袖興起!(Leaders Arise!)"