I am a big Disney fan. I love watching Disney movies. Disneyland is my happy place. I know. You are shocked. Mulan ranks in my top ten favorite Disney animated films. It tells the story of a young woman who, in order to save her father's life, takes his place in a draft, taking on the persona of a man named Ping. In doing so, she ends up saving all of China from the invasion of the Huns. In the beginning of the movie, the emperor remarks, "A single grain of rice can tip the scale. One man may be the difference between victory and defeat."[1]*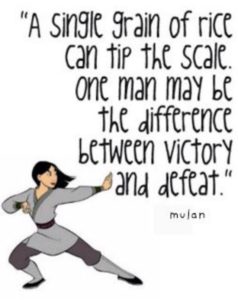 One of the things I love most about this movie (aside from the great soundtrack) is the way Mulan learns to be her true, authentic self. In doing so, she becomes a leader and inspires others to follow her even when they discover she is… a girl.
What Is Leadership?
In his widely read book Leadership: Theory and Practice, Peter Northouse writes, "Leadership is a process whereby an individual influences a group of individuals to achieve a common goal."[2] He goes on to say that leadership is, "a transactional event that occurs between the leader and the followers."[3] While there are many books that define leadership, Northouse sets himself apart in the way he discusses leadership into relationship with followers. He writes, "the approach in this text suggests that leadership is a process that can be learned, and that it is available to everyone."[4]
There are four aspects of the leader according to Northouse:
Leadership is a process.
Leadership involves influence.
Leadership occurs in groups.
Leadership involves common goals.
Mulan as a Leader
As opposed to the idea of leadership being defined as a trait, Northouse defines leadership as a process, something that can be learned. As a woman, Mulan is not a born leader. She does not have the right genetic code. She becomes a leader over time. When Mulan first enlists in the army, she is weak, uncertain, and awkward. Her fellow soldiers have no respect for her. Over time, she learns how to be a soldier. She gains the respect and friendship of her fellow soldiers. She gains confidence in herself. It did not happen overnight. It is a process.
Leadership involves influence.
A leader emerges as he or she gains influence, or power. Northouse writes, "Followers give it [power] to leaders because followers believe leaders to have something of value."[5] In a twist of roles, Mulan, the woman, becomes the leader that they needed to save the Emperor. In the climax of the movie, Mulan learns that Shan-Yu, the leader of the Hun army, lives and he is on his way to the capital city to kill the Emperor. Despite knowing that she may lose her life, she goes to warn her captain, Shang. Shang ignores her and Shan-Yu captures the Emperor. Using her ingenuity, she convinces her friends and Shang to follow her to save the Emperor. In this twist of events, the men dress as women in order to get to the Emperor.
Northouse suggests, "Individuals emerge as leaders in the group when they become most like the group prototype."[6] To the shock of everyone, the Emperor honors Mulan. Though she is a woman, she becomes the group prototype. She is the grain of rice that tipped the scales.
Leadership involves common goals.
When it comes to the power leaders wield, Northouse describes it as something that happens in relationship. He writes, "It should be used by leaders and followers to promote their collective goals."[7] The main goal of the army was to save China from the Huns and to keep the Emperor safe. Mulan understands this goal and she approaches it best by being her authentic self. Prior to her unit discovering that she is female, she saves everyone by using ingenuity instead of brute strength. She sets aside her own safety to save the life of her captain, Shang.
If you read David's blog, you know he did an amazing job detailing Jesus as the epitome of a leader to follow. Greg wrote an incredible blog about the importance of being imitators of Christ. Jesus is the ultimate example of a leader. I am sure you must be thinking, why did I choose a Disney Princess to discuss the traits of leadership? To that I would ask, why not? I love to look at things from a unique angle. As a woman in ministry, I am learning what it looks like to lead out of my strengths. I am leaning into who Christ made me to be and finding that what I have to offer is vastly different than my male counterparts, but no less needed or valuable. This movie highlights the unconscious gender bias we discussed last week. Throughout the movie, you can see Mulan struggling against the roles society expected her to play. It was only when she truly embraced who she was that she began to shine, and doing so, became the grain of rice that tipped the scale.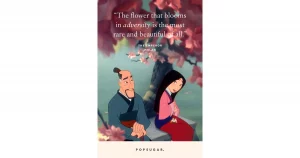 [1] Mulan, directed by Toney Bancroft and Barry Cook (1998, Walt Disney Pictures).
[2] Peter G. Northouse, Leadership: Theory and Practice: Fifth Edition. (Los Angeles, SAGE Publications, Inc., 2010), pg. 3.
[3] Ibid., pg. 3.
[4] Ibid., pg. 13.
[5] Ibid., pg. 13.
[6] Ibid., pg. 6.
[7] Ibid., pg. 8.
* I have included links to videos from the movie Mulan for each section with the relevant scene.
8 responses to "A Single Grain of Rice"