The End is Near…or is it?
I can still remember a few times as a kid when I believed I had been "left behind". Meaning I thought Jesus had come, taken my family, and left me behind on earth. Just watch the movies.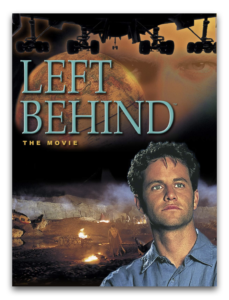 I grew up in a faith tradition that preached all kinds of ideas around the "end times". These apocalyptic expectations handed all of us a set of lenses to view negative events or societal change as "signs of the times", so most of us anticipated the return of God's kingdom at any minute.
Memories of believing I was left alone to endure the great tribulation are kind of funny NOW but at the time they were traumatic. Violence and horrible events portrayed in the news meant the world was getting "worse and worse". Many social justice developments were viewed as moral decline. Some in my denomination perceived women preaching in church, interracial marriage, new fashion trends, gender roles expanding, less censorship in the media, and tolerance for the LGBTQ community as the "the world getting worse and worse."
My churches confident biblical interpretations about the state of the globe and Jesus' imminent return, largely based off media coverage, was obviously wrong since we're still here. Even after Y2K! On top of that, every generation in Christian history has believed their time was the one when history ends since "the world has never been as bad as it is now". According to Bobby Duffy, in Why We're Wrong About Nearly Everything, humans have a tendency toward delusion and misperceiving reality quite frequently for a multitude of internal and external reasons. A vicious cycle can start of perceiving a reality, then only seeing things that support it and overlooking things that challenge it.
If we believe the world is getting worse, we will see it that way, even when the data points otherwise.
On this subject, Duffy says, "most things are improving over time, is more likely to be accurate than the opposite."[1] Steven Pinker, another author and researcher who is mentioned in this book, illustrates this idea in a TED talk where he shows global trends over history moving in very hopeful and positive directions in categories like extreme poverty, famine, child mortality, battle deaths, homicide deaths, literacy, income, democracy, and technology. However, the tone of the news keeps trending more negative in its coverage giving the illusion that the world is going to hell in a hand basket. [2] We're not living in utopia, but it's not as bad as the news or end time preachers make it seem.
Bobby Duffy's book feeds into my NPO on several levels. Biblical interpretation plays a large role in how we as Christians perceive the world, events, and change. Like my church connecting current events with end time predictions. Applying historical critical methods (that I learned in seminary) to a book that is full of apocalyptic imagery, future predictions, and end time content can help slow our thinking from System 1 to System 2 processing when catastrophes happen, or society evolves.[3] It may not be the end! This can ultimately help make better sense of our world and help us discern what God is up to, so we can remain non-anxious when emotions are high.[4] This is still an issue in my part of the world.
Our biblical beliefs and theologies play such a role in how we perceive the world and its inevitable changes. I can view certain changes as threatening and destructive or as developmental and necessary. Discerning between the two sides is the trick.
As I've mentioned before, my NPO is attempting to bridge some gaps regarding understanding the Bible between higher education and the local church. Higher criticism has received a bad reputation at times in many local churches, sometimes for good reason. There can be an unnecessary and unhealthy degree of cynicism toward religion in some, but certainly not all, of these academic circles. The value higher education brings to biblical interpretation are its critical methods and honest inquiries that acknowledge the Bible's limitations, developments, and ancient worldviews regardless of how it makes us, as Christians, feel, which can actually help us land closer to reality. [5] It causes us to pause before we claim something as irrefutable truth when it could be human perceptions or religious tradition.
Things to keep in mind for my NPO:
Raw data and statistics are helpful, but not as powerful as stories and narratives to bring change.
How surveys are administered will influence the results. Keep it anonymous if honesty is the goal. People want to be perceived certain ways to ensure belonging and acceptance which can influence how participants answer questions.
Cultivate and encourage healthy skepticism on all fronts while guarding against cynicism on all fronts. Cynicism distorts reality as much as our inherited biases. Keep a healthy skepticism of my own perceptions of reality as well as my perceptions of other people's perceptions of reality.
Slow down and know when to move into system 2. Like Bobby says, "We can accept the emotions, but challenge the thought." [6] Really analyze the data and situation.
Take a page from Charles Darwin's approach, look for evidence and voices to challenge my theories for the sake of research integrity, since after all, I'm probably "wrong about nearly everything".
[1] Duffy, Bobby, Why We're Wrong about Nearly Everything: A Theory of Human Misunderstanding, (New York: Basic Books, 2019), 141.
[2] "Is the World Getting Better or Worse? A Look at the Numbers | Steven Pinker." YouTube. YouTube, May 21, 2018. https://www.youtube.com/watch?v=yCm9Ng0bbEQ.
[3] Kahneman, Daniel, Thinking, Fast and Slow, (New York: Farrar, Straus and Giroux, 2013) 36.
[4] Friedman, Edwin H., Margaret M. Treadwell, and Edward W. Beal, A Failure of Nerve: Leadership in the Age of the Quick Fix, (New York: Church Publishing 2017), 23.
[5] Land, Ray, Jan H. F. Meyer, and Michael T. Flanagan, eds., Threshold Concepts in Practice, Rotterdam, The Netherlands: Sense Publishers, 2016.
[6]  Duffy, Why We're Wrong About,  142.
16 responses to "The End is Near…or is it?"