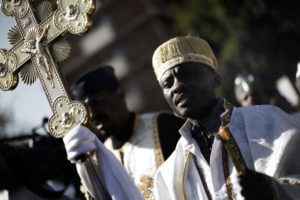 Thomas C. Oden's brief work, How Africa Shaped the Christian Mind, is a tantalizing, mouth-watering attempt to whet the appetite of the reader toward feasting on new ideas.  His astonishing premise radically reshapes traditional Western concepts of the foundations of the Christian faith which I was educated under.  Gone is a myopic, Eurocentric perspective on the development of Christian faith over the centuries.  In its place are breadcrumbs scattered along a shrouded path, small indicators revealing possibilities that enrich our faith as global, multicultural, and diverse.  Oden's claim is that Christian faith was first nurtured and preserved in Africa by Africans.
This gap in Christian history comes from assuming that since the early African theological writings were written in the language of the empire – Greek and Latin – they must therefore be a reflection of a European worldview.  Oden suggests that non-European thought patterns rooted in African realities actually became fundamental to how the Christian faith developed in the first millennium.  The earliest streams of Christian faith as expressed in monasticism, ecumenism, exegesis and iconography, are all sourced in northern Africa.
It does not seem to be Oden's intent to develop comprehensive arguments for a robust Afrocentric theology in this volume.  Instead, he lays clues for future detectives, armed with academic research capabilities and the languages of the continent – Arabic, Swahili, Zulu – to lead contemporary Africans in recovering their history and building a stronger, more resilient Church on the continent.  Indeed, he urges this more than once throughout the book.
The work for this window of opportunity, says Oden, is narrow and must be seized now.  African Christianity is confronting different contemporary challenges. On one hand, emotive and charismatic African Christian expression common throughout the continent is destined to scorch in the sun without nourishing from the waters of two millennia of historic Christian tradition, their lifegiving liturgies, and the foundations of Christian theology. With this careful and patient watering, the seemingly rootless African expressions of Christianity evident in the many independent sects throughout the continent may find their true home and a deeper connection to worldwide Christianity.
Another challenge that presents itself is the rise of a militant and aggressively expanding Islam in the continent.  Oden suggests that the harsher edges of Islam could be shaped by dialogue with a recovery of the common Christian tradition rooted in the Maghreb and Nile River Valley.  Where Africans are being actively wooed to Islam in reaction to Western Christianity's colonial past, a recovery of Christianity's African identity demonstrates the indigeneity of Christian faith on the continent.  Imagine this strange and compelling contrast – the harsh environments where Desert Fathers and Mothers isolated themselves in prayer and fasting one day bearing the fruit of interreligious dialogue and mutual learning.
This book brought me joy.  It reveals the unusually mysterious way that God seems to work.  What is marginalized, forgotten and ignored is revealed in due course as the central preserving agent for the integrity of the faith we hold so dear.  During the Dark Ages when European civilizations were disintegrating and under attack from disease and war, Christian faith was being carefully cultivated in prayer, art, and faithful communion by Africans hidden in the mountains and deserts.
We must remember this mystery today. Even as our own cultural fundamentals are being shaken and the Christian roots of Western society are being discarded, God's faithfulness in preserving His church is firm, and the gates of Hades will not prevail against it.  It is not through might and power that the Christian church will be preserved, but in and among those on the margins of our world.
6 responses to "Rewriting church history"