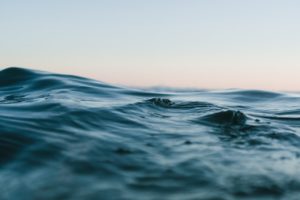 Words flew through the air like bullets on a battlefield, leaving deep, gaping wounds. Not the best way to begin a Saturday morning. Still, there we were, once again, in an emotionally explosive situation with no real hope in sight. For months, the darkness had been settling in as circumstances with our daughter went from bad to worse. What we thought was "just normal teenage hormones" was more, so much more that the possibility for flight or suicide was high. That morning's argument ended with me leaving her alone while I went to my son's soccer game. We both needed space to breathe. Angry tears flowed free all the way to the fields. After regaining my composure, I went and watched the game, but not without the heavy weight of "Will she be ok when I get home?"
It was during this season of life that Oceans was sung almost every Sunday at worship. The more it was sung, the more I thought "What a ridiculous song," because being pulled down into the dark abyss of faith was not looking so glamorous in my life. Everything in my being was rejecting the darkness that was consuming my daughter, myself, and our family. My arms flailed as I continued to sink. Did I call on God's name? Yes, but as visualization of the shores of security diminished, my cries were met with deafening silence. I could only imagine that this was how Jonah felt as he sank deep into the stormy waters.
In Not Doing, Renner and D'Souza highlight free-diving specialist, Michael Adams, as a prime example of what it looks like to utilize "psychological flexibility."[1] In their interview, Adams walks the reader through what it feels like to free-dive into the depths of water. Before he descends, he releases all fear in his body by focusing on the Beatles' song, "Let it Be." He then begins his gentle journey down, utilizing the least effort possible. At the 10-meter mark, he simply "hangs" in the in-between, where his body weight and the water's weight are cancelled. Eventually, he begins to simply fall until he reaches the depth of 40 meters where the ocean hugs him.[2] He calls this place the "liminal space between life and death. A point of balance."[3] I wonder if Jonah experienced such a state of being during his downward journey?
Science tells us this liminal space between life and death is caused by the "mammalian dive response, the most powerful autonomic reflex known in the human body. This reflex optimizes respiration by preferentially distributing oxygen stores to the heart and brain, allowing divers to stay under water for extended periods of time."[4] When I read this description, I thought, "That's what I call breathing holy."
Somewhere along our three-year season in the dark, silent, oxygen deprived depths, God taught me how to breathe holy. I'm not sure exactly when it happened, but I think that it began when I returned home from the morning soccer match. I remember walking to the front door with tears in my eyes, not sure what I would find behind that door. Would my daughter have run away? Or would she be dead in the tub? My heart pounded in my chest. As I exhaled and turned the doorknob, I sensed God whisper, "No matter what you find, you need to know you've done your best. I'm with you. I love you." On my next inhale, I chose to let go "of the perceived security of the shore…and become more open to the opportunities of the current"[5] found in God's grace. Joseph Campbell notes how it is in this dark mysterious womb of death where internal transformation takes place.[6] This truth is woven throughout the fabric of fable and now into the fabric of me, where the threads of ego intermingle with threads of the Eternal to reveal a tapestry of mysterious wonder.
Photo by Matt Hardy on Unsplash
[1] Diana Renner and Steven D'Souza. Not Doing: The Art of Effortless Action. (London, UK: LID Publishing, Ltd., 2018) 175.
[2] Ibid., 176-177.
[3] Ibid., 177.
[4] Ibid., 177.
[5] Ibid., 178.
[6] Joseph Campbell. The Hero with a Thousand Faces. (Novato, CA: New World Library (3rd ed), 2008), 74.
19 responses to "Breathing Holy"