A Quick Fix Offers No Forgiveness For the Traumatized Body and Soul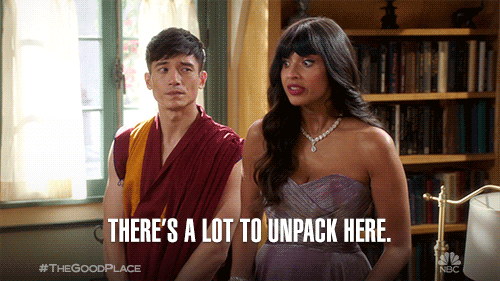 A South African Anglican Archbishop, a Dutch psychologist, and a Rabbi walk into a bar…
Comedy removed due to it causes to much anxiety inciting
trauma and no one was ready to forgive.
All lightheartedness aside, as I begin this new semester reflecting  on my first quarter in my new pastoral call, I believe a book that could weave together the wisdom of No Future without Forgiveness, The Body Keeps the Score, and A Failure of Nerve would prove very helpful as I navigate attempting to be a well-differentiated leader with a community that needs finding a path toward forgiveness through the trauma of the past.  But perhaps I am getting ahead of myself.
We begin this semester with two heavy hitters, giants among humanity who share their stories of devasting trauma and struggle as they worked for freedom for black South Africans and to redeem the dignity of people brutalized through apartheid. In his autobiography, Long Walk to Freedom, Nelson Mandela (born Rolihlahla meaning "troublemaker") unpacks his journey that eventually landed him in prison as a terrorist for 27 years.  Mandela shares the family stories, the relationships, and events that shaped him into the leader he became prior to becoming SA's first elected black President.  His passion for justice and for his people got him into "trouble" at times.  Mandela freely admits that in his younger days he liked to live into his given name, "I liked to incite an audience…As I condemned the government for its ruthlessness and lawlessness, I overstepped the line:  I said that the time for passive resistance had ended, that non-violence was a useless strategy and could never overturn a white minority regime bent on retaining its power at any cost."[1]  Although Mandela thought non-violence was only useful as a strategy[2], by the time of his release from prison he had learned the Friedman skill of Self-Regulation.[3]
Archbishop Desmond Tutu's memoir, No Future Without Forgiveness offers a vulnerable, and honest self-reflection of his participation in the Truth and Reconciliation Commission (TRC). Tutu shares his own struggles with balancing the trauma of apartheid with choosing to live into forgiveness for those who came forward to confess their crimes. He recounts the grueling process of hearing over 20,000 victims' testimonies and sabotage from police and enemies of the commission with revelations of his own falterings.  He admits the commission struggled to find cohesiveness, saying, "we were like a bunch of prima donnas, frequently hypersensitive, often taking umbrage easily at real and imagined slights."[4] I immediately wanted to invite Friedman into the conversation to address manifestations of a chronically anxious system.[5] Despite the roadblocks, Tutu remained tenaciously tethered to the hope of restorative justice founded upon forgiveness.
The congregation I am now serving clearly must confront a past that holds pain and loss for the community.  Tutu's words regarding the commission, "Perhaps we had not realized just how wounded and traumatized all of South Africans were as a result of the buffeting we had in various ways taken from apartheid"[6] speak to the truth regarding the wake of grief surrounding the decision years ago for our church to be intentionally open and affirming to the LGBTQ+ community.  This decision led to an extensive and painful, hurtful, and damaging rift between members that ultimately was realized in a substantial exodus of members.  In my short time here, I have nudged opened the door to the trauma as I have been working with the Session to dig into A Failure of Nerve. As they begin to do the self-reflection around their lack of well-differentiated boundaries, I have watched them struggle to not recoil for protection.  I am attempting to lead them to understanding and finding ways to embody forgiveness as the most powerful path to move forward into the future.
But it is not just the trauma, it is also about how members identity that's been shaped by their understanding of power.  "The trouble is that they have believed that there are only two possible positions in any sociopolitical setup.  You are either to top dog or you are the underdog.  There is no place in this kind of scenario for participatory, shared power."[7] Tutu hits the nail on the head regarding human beings' tendency toward jockeying for position and speaks directly into currently America's dichotomous nature!  And I hear this truth in this congregation as they speak in terms of winners and losers and who is right and wrong.  I am waist deep in the work of shifting these mental models of power so that they may embrace the shared humanity they have with each other.
So…A South African Anglican Archbishop, a Dutch psychologist, and a Rabbi walk into a bar…and the bartender says, "You should write a book together."
[1] Mandela, Nelson. 1995. A Long Walk to Freedom : The Autobiography of Nelson Mandela. Trade Paperback Edition. London: Time Warner Books Uk. Page 182.
[2] Ibid, Page 183.
[3] Friedman, Edwin H., and Peter Steinke. 2017. A Failure of Nerve, Revised Edition: Leadership in the Age of the Quick Fix. 10th Anniversary edition. New York: Church Publishing. Page 96-97.
[4] Tutu, Desmond. 2000. No Future Without Forgiveness. New Ed edition. New York: Image. Page 196.
[5] Friedman, Edwin H., and Peter Steinke. 2017. A Failure of Nerve, Revised Edition: Leadership in the Age of the Quick Fix. 10th Anniversary edition. New York: Church Publishing. Pages 68-97.
[6]  Tutu, Desmond. 2000. No Future Without Forgiveness. New Ed edition. New York: Image. Page 196.
[7] Ibid.  Page 232.
12 responses to "A Quick Fix Offers No Forgiveness For the Traumatized Body and Soul"