Monday, November 12th, 2018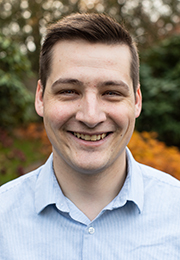 Alumnus Brennan Rains has joined the university as a financial aid counselor. A 2017 graduate of George Fox, from which he earned a bachelor's degree in organizational communication, he has worked the past year and a half as a management trainee for Enterprise Rent-A-Car in Tigard. He worked previously during his senior year as a bakery clerk at the Fred Meyer in Newberg (2016-17) and spent the summers of 2015 and 2016 as an assistant football coach at Hanford High School in Richland, Washington. He lives in Lake Oswego.
Doug Beatty (Data Analytics), Brittany Baker (Sports Marketing) and Jeremy Doucette-Hardy (Advancement) have left the university.