Monday, April 15th, 2019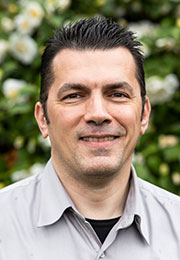 The university recently welcomed Chris Vijeila as a lead campus safety officer in the Campus Public Safety office. For the past year he has worked as a site supervisor for Allied Universal, training officers and new supervisors in the Hillsboro and Portland areas and serving as a first responder to emergency situations ​while also maintaining all security devices. In the 17 years prior, he worked as an IT specialist and network engineer for IT Solutions in Irvine, California, where he managed the daily operations for the company's IT department. Chris has also worked the past eight years as a field supervisor for Off-Duty Officers, ​a ​law enforcement ​organization in San Diego, for which ​he conducted regular site inspections, was involved in special assignments, ​and ​provided training for new and regular officers. He earned a bachelor's degree in computer science from California State University Fullerton in 2005 and gained experience conducting special assignments for Patrol One Security (2012) and Off-Duty Officers (2016). He lives in ​Vancouver, Washington, with his wife Marianna and four children – Nathan, Natalie, Alexis and Joseph.
McKenna Tillotson (Marketing Communications), Scott Barnett (Admissions) and Jonathan Hall (Campus Public Safety) have left the university.