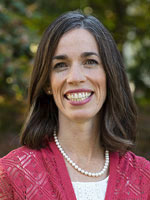 The physician assistant program welcomes Dr. Erika Barber as an assistant professor. For the past eight years she has worked as a float physician for the Providence Medical Group in Portland, providing in-person visits at family practice and internal medicine clinics, telemedicine visits for its Virtual Sick Clinic, and home and nursing home visits with Providence's Elder At Home program. Previously, Erika was medical director and primary care provider with Immanuel Pathways in Omaha, Nebraska, where she helped start a program for all-inclusive care of the elderly. She earned an MD from Creighton University and the University of Nebraska Medical Center (2007) and holds a bachelor's degree in economics from Trinity University in San Antonio, Texas (2003). She holds board certification in internal medicine and geriatrics. Erika lives in Dundee with her husband Nick and their children Nolan (11), Niels (9), Emilie (7) and Nate (6). The family attends St. Peter Catholic Church in Newberg, where Erika leads a Montessori class for children.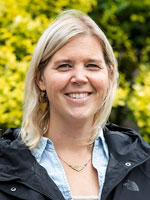 Kerry Ford joins the university this month as an international student affairs administrator. For the past four years she has worked as the associate director of housing (chief housing officer) at the University of Portland. In addition, during the past two years she taught leadership courses at the institution as an adjunct faculty member. Prior to her employment at the University of Portland, Kerry worked for three years as the assistant director for residence life at Southern Oregon University (2014-17). She also gained higher education experience as a resident hall director at the University of Wisconsin Eau Claire (2008-12). Kerry earned a master's degree in education from Grand Valley State University (2005) and holds a bachelor's degree in dramatic arts from State University of New York, Purchase College (2002). She lives in Salem with her husband, Aaron, and 13-year-old son Jack, along with two French bulldogs, a cat, and eighth-grade-science-teacher reptiles. Aaron and Kerry lead the Willamette Valley Christian Church in Salem.
D'Metri Mattocks joined the university this spring to serve as director of intercultural life. For the past year he has worked as an area coordinator at Lee University in Cleveland, Tennessee, where he served as chair for a departmental committee focused on campus collaborative education, training, programming, diversity efforts and intercultural care. Before that, he was a resident director at the same university for three years. D'Metri also gained higher education experience as a projects assistant at Lee, for which he collaborated with residential life and housing to implement and develop various projects (2016-17). He earned a master's degree in holistic child development (2018) and a bachelor's degree in psychology and music (2016), both at Lee University. He recently moved to Sherwood and is seeking out a church home.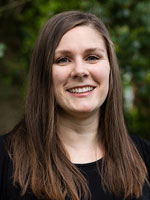 The physician assistant program welcomes Erika McCarthy as an assistant professor this spring. She started working as a physician assistant for Willamette Urology in Salem eight years ago, and transitioned to part time since joining George Fox. She also works at Salem Hospital, as a first assistant in the operating room and taking care of hospitalized urology patients. Erika holds a Master of Science in Medicine degree from Trevecca Nazarene University (2012) and a bachelor's degree in biology from Northwest Nazarene University (2009), with additional master's study in missional leadership at Northwest Nazarene. Outside of her work, she has served as a track and field coach at McNary High School since 2016. Erika lives in Keizer with her husband Sean and their children Everette, Justus and Elsie. The family attends Salem Alliance Church.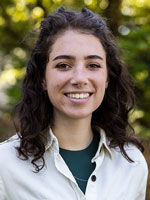 The marketing communications office welcomes Sierra Ratcliff, a 2020 George Fox alumna, as a web designer. Since graduating with a bachelor's degree in illustration, she's spent the past year doing freelance work for a number of clients, which included designing media content, blog pages, brand identities and brand collateral for independent businesses. Previously, she worked as a contract web designer for the University of Portland (2020) and as a graphic design intern for The Bible Project (2019). She also gained experience as an artist for the university's Interprofessional Primary Care Institute (2019-20) and as a web designer in George Fox's marketing communications office (2018-20). Sierra lives in Lake Oswego and attends Bridgetown Church in Portland.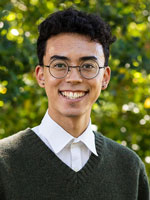 The admissions office welcomes Satoshi Seth as an undergraduate admissions counselor this month. A spring graduate of George Fox with a bachelor's degree in sociology, he's worked at the university as an intern in the marketing communications office the past three years. He was also an assistant area coordinator (2019-21), a teacher's assistant in the sociology department, and a volunteer as a design intern in George Fox's Intercultural Resource Center (2020-21) during his time as a student. Satoshi is currently enrolled in the University of Southern California's Master of Social Work program. He lives in Newberg.
Anaraquel Aguilera (Admissions), Jim Bray (Athletics), Lexie Criscola (Honors Program), Bob Dexter (Plant Services), Dominic Done (Theology), Jenny Elsey (Intercultural Life), Astralena Sharp (Advancement), Marla Sweningson (Financial Aid), Patty Vanier (Library) and Gaby Viesca (Seminary) are no longer with George Fox University.