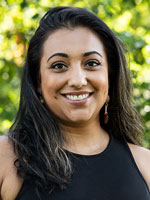 The university welcomes Rosh Abernathy as the associate director of advancement this month. For the past three years she has served several regional organizations as an independent business consultant and strategist through her own consulting business, Mad Love. Prior to that, she held a number of roles – including assistant director of adult degree programs, senior admissions counselor, and marketing and senior financial aid counselor – at Warner Pacific University. Rosh also has 13 years of consumer lending and banking experience from her time at JP Morgan, Wells Fargo and KeyBank. She holds a bachelor's degree in communication studies from the University of Oregon School of Journalism (2003) and lives in Beaverton with her fun-loving family, who attend Mt. Olivet Baptist Church.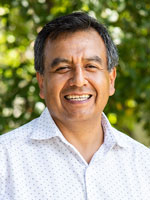 Rudy Briones has joined the university's IT department as a computer support specialist. He arrives with an extensive background in complete systems builds, hardware and software testing and repairs, and network, desktop and laptop technical support. Since November he has worked as an IT administrator at Beaverton Foods in Hillsboro. Before that, Rudy did network system analyst work, help desk support, and desktop/laptop support at Henningsen Cold Storage in Hillsboro for 22 years. He holds an associate's degree in both computer information systems-network administration and in cyber security, both of which he earned at Portland Community College in 2020. Rudy lives in Cornelius with his wife, Florinda, and their four children: Cristina, Rudy Jr., Ricardo and Daniel. The family attends St. Matthew Catholic Church in Hillsboro.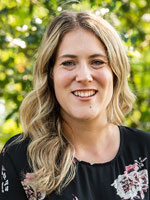 The university's admissions department welcomes Joy Brown as the senior associate director of admissions. She arrives with five and a half years of college admissions experience, working most recently as the senior assistant dean of admissions at Lewis & Clark College in Portland (2020-21). Previously, Joy worked in a number of roles at Pepperdine University in Malibu, California, as associate director of admission (2020), assistant director of admission (2019-20), senior admission counselor (2017-19) and admission counselor (2016-17). Currently enrolled in Azusa Pacific University's doctor of philosophy program, her research interests include the intersection of gender, leadership, and faith-based institutions. Joy holds a master's degree in social entrepreneurship (2019) and a bachelor's degree in sociology and political science (2016), both from Pepperdine. She lives in Newberg and has been a lifelong member of the Churches of Christ.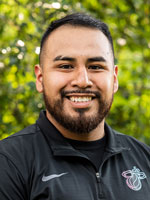 Leo Cruz joins the student life staff this fall to serve as an area coordinator in Le Shana and Gulley halls. He arrives from Biola University, where for the past two years he supervised four resident advisors in a graduate assistantship position with the university's residence life and housing department. In the year prior to that, he held a similar position at Azusa Pacific University, leading and organizing a group of four undergraduate interns to plan and put on monthly events as a graduate assistant in the Student Center for Reconciliation and Diversity. This marks a return to George Fox for Leo, who earned a bachelor's degree in biology from the university in 2018 and who served as a front desk associate in the IDEA Center, as well as a Bridge Scholars intern, his senior year. In addition to his bachelor's degree, he holds a master's degree in college counseling and student development from Azusa Pacific University. Leo lives in Le Shana Hall and is originally from Woodburn, Oregon.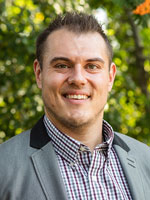 Miles Dean, an account executive for LeagueSpot, an esports tournament engine, has been hired to coach the university's newly launched esports program. An at-large board member of the Esports Trade Association, he brings 18 years of experience in sales, marketing, business development and customer service, primarily in the tech industry. Dean began working toward a career in esports in 2017. Since then, he has specialized in developing the in-arena experience and the technical side of the business with streaming as well. He helped work on the TBS Esports series, ΞLEAGUE, and also played a role in building out the technology used to film productions like Disney's The Mandalorian. He has also helped provide guidance for esports tech specs at universities around the U.S. prior to accepting the position at George Fox. Beyond esports, Miles' interests include technology, music, investments, fitness, the outdoors and history. He attended Western Iowa Tech in Sioux City, Iowa, where he studied business management (2005-07). He lives in Hillsboro with his wife, TraciAnn, and their son, Dax. They attend Trinity Lutheran Church.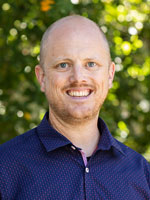 The human resources department welcomes AJ DeBacker as an HR business partner, responsible for collaborating with the academic affairs office on HR-related functions. In 2020, he founded the Kahawa Roasting Company, a coffee-roasting business that supports refugees in local communities. Before that, AJ worked as a licensed counselor and AVID coordinator at Early College High School in Salem, for which he planned, organized and managed a team of 10 leaders to create, implement, track and report yearly goals (2010-19). Under his guidance, the institution became a nationally recognized school of distinction across a six-year period and managed to place 90 percent of its students in four-year universities. AJ earned a master's degree in educational counseling from Oregon State University in 2008 and a bachelor's degree in business administration from the University of Nevada, Las Vegas in 2004. He lives in Salem with his wife, Maryanne, son Porter, and daughter Maggie, and attends Salem Alliance Church.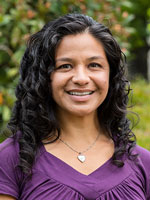 The Department of Biological and Molecular Sciences has hired alumna Tennille Hostetler as a science lab coordinator. Certified in lab safety and chemical hazard communication, she worked most recently as an adjunct faculty member in George Fox's biology department, teaching general biology and environmental science labs. Also, between 2017 and 2020, she was a teacher and science department head at Southwest Christian School in Beaverton. Prior to that, Tennille was head of the science department at Alliance Charter Academy in Oregon City (2014-17) and the cofounder/manager of the Teaching and Learning Community Homeschool Co-op in Canby (2007-17). Her career in the sciences began at George Fox in the late 1990s, when she was a researcher and Science Outreach biology teacher (1997-98). Tennille holds a master's degree in education from Portland State University (2002) and a bachelor's degree in biology from George Fox (1998). She lives in Beaverton with her husband, Gabe, and their two sons, Kanoa and Kalana. Tennille attends Southwest Bible Church, and she recently published a devotional Bible study on the 23rd Psalm, A Guide to Greener Pastures.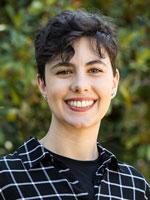 After working as an adjunct professor at George Fox the past two years, alumna Hannah Jackson is joining the university full time this fall as coordinator of the Academic Resource Center. She has taught LIBA and writing courses the past two years, while also developing curriculum to support students with ADHD and other learning difficulties. In addition, she assisted in the management and training of tutors for the Advanced Writing Fellows Program associated with the fall 2020 LIBA 100 class. Hannah was also an ARC consultant in 2018-19. She earned a bachelor's degree in English from George Fox in 2019 and recently completed Southern New Hampshire University's masters program in English and creative writing. She lives in Newberg with her husband.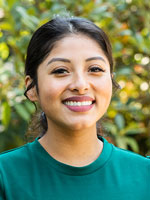 The university welcomes Guadalupe Lopez Montesinos as a financial aid counselor. She's worked the past year as an insurance coordinator with Castilla Orthodontics in Salem, and prior to that worked at Warner Pacific University, where she was a resident advisor (2018-20), student affairs office assistant (2017-20), and student financial services assistant (2017). Outside of work, Guadalupe served as an activities leader for Girl Scouts of Oregon and Southwest Washington from 2018 to 2020. She also volunteers at her local church as a catechist for middle school students. She earned a bachelor's degree in health and wellness, with a minor in psychology, from Warner Pacific University in 2020. She lives in Gervais with her family, has four cats and one dog, and attends Sacred Heart Catholic Church in Gervais. She does not have any children but has a 7-month-old nephew, Benjamin, whom she adores.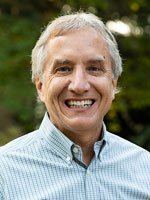 The university's marketing communications department has hired Tom Morlan as director of marketing content for the university's graduate and Adult Degree Programs. He brings 20 years of higher education marketing experience, working most recently as a marketing communications specialist at Willamette University in Salem for the past two and a half years. Previously, he served as director of marketing and communications at Multnomah University in Portland (2013-18) and at Colorado State University (2007-13), after launching his career in higher education at Willamette University as manager of enrollment communications (2001-07). Tom refined his writing and editing skills as editor of the Canby Herald and Wilsonville Spokesman newspapers (1994-2001), and previously worked as a sports and outdoor reporter at The News Guard in Lincoln City (1989-94). He holds a master's degree in mass communications from San Jose State University and a bachelor's degree in journalism from the University of Oregon. Tom and his wife Jane live in Aurora near their children Josh and Eleasah, both of whom are George Fox graduates, and their families.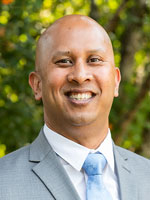 An executive with more than 20 years of corporate and higher education experience, Dan Moye, joins the university as strategic partnerships director. He's worked most recently at Southern Utah University, where he was executive senior associate athletics director (2016-20), the duties of which included overseeing promotion and education of the school's brand identity guidelines; event, equipment and facilities management; and chairing the budget committee. Previously, he worked for Adidas from 1998 to 2015, serving as a licensed marketing manager for the company at the University of Wisconsin (2013-15), the University of Michigan (2010-13), the University of Tennessee (2005-10), UCLA (2003-05), and Arizona State University (2001-03). Dan's career with Adidas began with stints as a coordinator for college and NBA partnerships (1998-2001). He holds a master's degree in interdisciplinary studies from Southern Utah University (2020), a bachelor's degree in liberal studies and minority studies from Oregon State University (1997), and a diversity and inclusion certificate from Cornell University (2020). Dan lives in Sherwood.
Jewell Sparks joins the admissions office to work as an undergraduate admissions counselor. For the past three years she has worked as an admissions associate at Lick-Wilmerding High School in San Francisco, where she planned and executed all admissions-related outreach programs, including high school fairs, partner organization events, middle school visits, and matriculating student events. Previously, Jewell was an admissions ambassador at Willamette University (2015-18), for whom she conducted tours, served as a college fair representative, and managed front-desk operations. She is a first-generation college graduate, earning a bachelor's degree in biochemistry from Willamette University in 2018. Jewell lives in Beaverton and is set to marry her fiance, Joseph, later this month.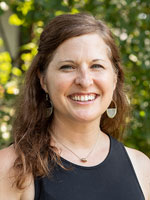 The theology department welcomes Sarah Taylor as an administrative assistant. This marks a return to George Fox for Sarah, who worked as the associate director of residence life (2014-17) and as an area coordinator (2013-17) at the university. More recently, she has worked at Westmont College in Santa Barbara, California, as an interim resident director (2020) and as a student success assistant (2018-19). Sarah also worked in residence life at Wheaton College (2004-10) and Gordon College (2002-04). This past winter marked the conclusion of 18 years spent living on campus in residence life roles. She earned a master's degree in Christian formation and ministry from Wheaton College Graduate School (2006) and a bachelor's degree in music education from Gordon College (2001). Sarah lives in Newberg with her husband, Dan, and their four daughters: Maggie, Lucie, Grace, and Kathryn.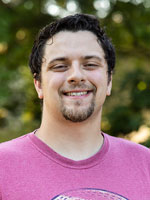 The plant services department welcomes Marc Umfleet as a groundskeeper. He worked most recently as a technician for Devious Powersports, assembling new Polaris vehicles and servicing older ones. Before that, he worked for five and a half years as a lube tech at Tyler's Automotive in Newberg. Marc holds an exercise science degree, with a concentration in pre-education (PE teaching), from Western Oregon University. He lives in Newberg with his wife, Andrea, and attends Journey Church in Sherwood.
Biniam Afenegus (Men's Soccer Coach) and Justine Haigh (College of Business) are no longer with George Fox University.