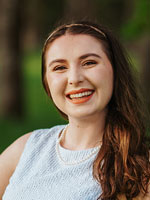 The university welcomes Gabriela Elkins as a graduate admissions counselor this month. She will work with prospective students interested in George Fox's counseling programs. She arrives from Corban University in Salem, where she has worked as a graduate admissions counselor for the school's MBA, master of business intelligence and analytics (MBIA), and master of public safety administration (MPSA) programs since February of 2019. Gabriela's graduate counselor experience at Corban came after she spent two and a half years (2016-18) as an admissions intern at the university. A graduate of Corban, from which she earned a bachelor's degree in English in 2018, Gabriela lives in Portland with her best friend and former classmate, Missy. Since Gabriela recently moved to the area, she is still searching for a church home, but has attended a few virtual services at Bridgetown.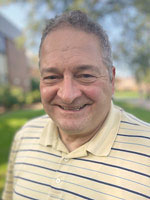 The IT department welcomes Roland Parenteau as a data analyst. For the past three years he has worked as a data analyst for the Oregon Department of Education in Salem, analyzing and presenting data related to career and education programs overseen by the department. From 2014 to 2016, he was an adjunct instructor teaching programming at Pioneer Pacific College in Wilsonville. Roland also gained experience in the field as a contractor for the Mainz Brady Group of Portland, providing IT support to Providence Health Services (2013-14). He holds a master's degree in journalism, with an emphasis in science communication, from Boston University, and a bachelor's degree in American history from Catholic University of America in Washington, D.C. Roland lives in Newberg with his wife Jennifer. They have three grown children – one of whom, Jocelyn, is a George Fox alumna. He enjoys exercise, learning classical guitar, and FaceTiming with his four grandkids.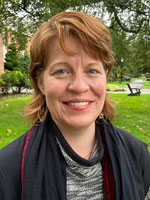 Sarah Tenney joins the university's advancement office as the director of development, government, corporate and foundation relations. As a seasoned collaborator, Sarah will help align the university's new enterprise areas and the advancement office's institutional solicitations, working closely with faculty, finance, HR and advancement to prepare proposals for key strategic improvement needs, update procedures, verify grant criteria, identify funder priorities, grow faculty grant writers, deliver funder reports, and assist as grant projects change. She has nearly 30 years of industry experience, which has included four executive positions with Kaiser Permanente of Hawaii, Goodwill Industries, USS Battleship Missouri, and Blue Export Group. Her university tenures include AAFOA consortium membership, developing Chaminade University's nonprofit MBA program, as well as adjunct faculty roles and multiple federal grant contract responsibilities for the University of Hawaii system. Sarah earned a bachelor's degree in Asian studies (Japan/China), is a graduate of the Pacific Asian Management Institute (PAMI) in international entrepreneurship, and holds an executive MBA from the University of Hawaii at Manoa. She lives in Hillsboro and attends Beaverton Foursquare Church and East Hill Family Church in Gresham. She also participates in the Portland ComedySportz Recreation League and is an amateur floral painter, with her first collection set to be showcased in McMinnville.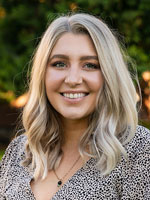 The financial aid office welcomes Soren Sweet as an assistant director of its scholarship resource center. An alumna of the university, from which she earned both a bachelor's degree in English (2017) and a master of arts in teaching (2018), she has worked the past year as the finance manager at the Salish Seaside Escapes in Orcas Island, Washington, specializing in filing tax documents, tracking incoming and outgoing funds, and managing bills, payments and financial accounts. She worked previously as a stylist for a bridal shop in Portland (2019). Soren lives in Newberg with her husband, Daniel Briggs, a George Fox alumnus, and their dog and cat. As they just moved back to the area, they are in search of a church home.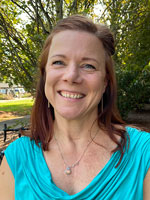 Amy Yates joins the university as a customer support specialist for IT. She has extensive customer service experience in the restaurant industry and has been a fitness instructor at the McMinnville Aquatic Center for 18 years. Amy's passion for fitness inspired her to work as a staff support manager for the Spartan Race the past three years. She earned a bachelor's degree in education from Western Oregon University in 2002. She lives in McMinnville with her husband, Jeff, a 911 dispatcher and volunteer reserve police officer, and her teenage daughter, Keala. They attend Calvary Chapel in McMinnville.