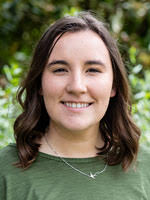 Alumna Abby Buckles has joined the university's William Penn Honors Program to serve as its admissions coordinator. A 2018 graduate of George Fox, from which she earned a bachelor's degree in psychology while participating in the honors program, Abby has worked extensively on campus since her arrival as a freshman. Since September, she has worked as a retail associate in the Bruin Store. Previously, she was a student employee in the psychology department (2017-18) and both a student intern (2016-17) and student employee (2014-16) in the honors program. She lives in Newberg with her husband Zak, a student in George Fox's PsyD program. The couple attends Church of the Vine in Newberg.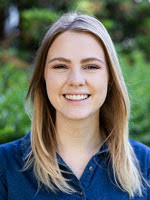 The marketing communications office welcomes Missy Downs as a marketing campaign and event manager. She graduated from George Fox this spring, earning a bachelor's degree in marketing, and has worked as a marketing intern and graphic designer in the marketing communications office for the past four years. In addition, she served as a resident assistant on campus (2017-18) and worked as an organizational aid and social media manager for the Newberg Bakery (2018-19). Missy also gained external work experience as a marketing consultant for the Newberg Rotary Club during her senior year. She lives in Newberg and attends Journey Church in Sherwood, where she teaches preschool children.
The following professors are retiring from George Fox this summer: Christine Austin (ELI), Bob Bredemeier (Art and Design), Gary Buhler (Art and Design), George Byrtek (ADP), Viki Defferding (Spanish), Steve Delamarter (Seminary), Jim Foster (Dean, College of Behavioral and Health Sciences) and Mark McLeod-Harrison (Philosophy). Buhler will return to teach on an adjunct basis.
After 20 years of service with Bon Appetit on campus, Denny Lawrence is retiring this summer.
Danny Cross (Athletics), David Kerr (Art and Design), Kelly Lafferty (Graduate Admissions), Steve Leijon (Business), Paul L'Esperance (Nursing), Danette Newkirk (Marketing Communications), Janelle Olivarez (Marketing Communications), Marcus Peters (Plant Services), Polly Peterson (English), Erica Ramirez (Seminary), Aida Ramos (Sociology), David Rawson (Business), Jon Schatz (Business), Grace Tissell (IDEA Center), Rebecca Valdovinos (ELI) and Gina Worley (Graduate Admissions) have left the university. Leijon, Rawson and Schatz will return to teach on an adjunct basis.