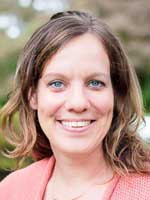 The Graduate School of Counseling welcomes Laurie Bloomquist as an assistant professor of counseling this fall. She has run her own business, Living Hope Counseling, for eight years, and for the past 10 years has taught at Western Seminary in Portland as an assistant professor of counseling (2016-20), an instructor of counseling (2015-16), and an adjunct professor of counseling (2010-15). She also has extensive experience in clinical settings, serving at a number of Portland-area counseling centers over the past decade. Laurie also worked as a child and family therapist for Trillium Family Services (2009-12) and as a group facilitator for The Dougy Center for Grieving Children (2009-12). She holds a PhD in counseling from Oregon State University (2016), a master's degree in counseling from Western Seminary (2009), and a bachelor's degree in psychology from The College of Idaho (2004). She lives in Portland and attends Bread and Wine Church.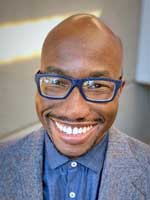 After spending the past three years working at Portland Seminary on an adjunct basis, Kurtley Knight joins the university full time this fall as an assistant professor of spiritual formation. In addition to serving as a faculty advisor and adjunct professor of missional leadership at George Fox since 2017, he has spent the past year working as a senior teaching fellow at the Renovaré Institute in Denver. Ordained as a transitional deacon in the Anglican Church of North America in 2019, Kurtley has also served as the lead pastor and church planter at Epiphany Church in Dallas (2016-18), the church planter in residence at Irving Bible Church in Irving, Texas (2015-16), as lead pastor at Hillcrest Church in Pittsburgh (2010-14), and as a Bible teacher at San Gabriel Academy in San Gabriel, California (2009-10). He began his ministry as a youth and young adult pastor at the Miramonte Blvd Church in Los Angeles (2005-06). He earned a doctor of ministry in leadership and spiritual formation from Portland Seminary (2016) and holds a master of divinity from Andrews Theological Seminary in Berrien Springs, Michigan (2009), as well as a bachelor's degree in ministerial theology from Oakwood University in Huntsville, Alabama (2005). A recent transplant from Dallas, he lives in Beaverton with his wife Ivah and attends Church of the Vine, an Anglican parish in Newberg.
The Graduate Department of Clinical Psychology welcomes Aundrea Paxton this fall to work as an assistant professor of clinical psychology. For the past two years she worked as a staff psychologist and adjunct professor at Biola University, where she supervised first practicum and advanced practicum students in the university's counseling center. Previously, she was a registered psychologist at The Guidance Center in Long Beach, California, providing individual and family therapy to children, adolescents and their family members (2016-17). She also worked at the same facility as a pre-doctoral intern (2015-16). Aundrea earned a doctor of psychology degree (2016) and a master's degree in clinical psychology (2012), both from the Rosemead School of Psychology at Biola. She also holds a bachelor's degree in psychology from George Washington University (2008). She lives in Tigard with her husband, Kerry, and 1-year-old daughter, Tiffany. The family is in search of a church home in the area.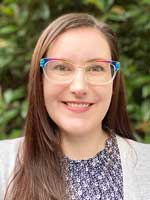 Kari Velez joins the School of Nursing this fall as an assistant professor of nursing. She has worked since January as an adjunct clinical faculty member in the department and, for the past six years, has worked as a staff nurse for Salem Health in Salem. Prior to her move to Oregon, Kari was an intensive care staff nurse at Kosciusko Community Hospital (2010-14) and a rounding nurse with Northern Lakes Medical Associates (2007-10), both in Warsaw, Indiana. She holds a masters of science in nursing from Grand Canyon University (2019) and a bachelor's degree in nursing from Goshen College in Goshen, Indiana (2007). Kari also studied biology for two years at George Fox (2003-05). She lives in Salem with her children, Aurora (10) and Oliver (8), and attends Salem Alliance Church.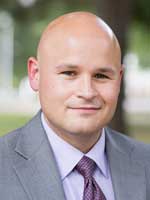 Alumnus Mike Vogel joins the Graduate Department of Clinical Psychology this fall as an assistant professor of clinical psychology. For the past year, he has worked as an assistant professor of counseling education in the School of Professional and Graduate Studies at MidAmerica Nazarene University in Olathe, Kansas. He's also served as coordinator for the university's community counseling and play therapy centers during that time. Previously, he was an assistant professor of psychology (2018-19), an adjunct faculty member (2018) and a lecturer (2017) at MidAmerica Nazarene. Mike also gained teaching experience as an adjunct faculty member at Kansas Wesleyan University (2017) and at Manhattan Christian College in Manhattan, Kansas (2016-17). This marks a return to Newberg for Mike, who earned a doctorate (2013) and master's degree (2010) in psychology from George Fox. He also holds a bachelor's degree in psychology from the University of Alaska Anchorage and is currently completing the doctor of ministry program at Sioux Falls Seminary, with an expected completion this fall. Mike lives in Newberg with Bridget and their two sons, Maddox and Ethan.
Brent Weaver (Music), Min Choi (Residence Life), Josh Sauerwein (Business), Mark McMinn (PsyD) and Rob Simpson (Student Life) are no longer with George Fox University.