Employees of the Year
The following four individuals were recognized as Employees of the Year for 2018-19. Included are comments about each, written by their supervisors.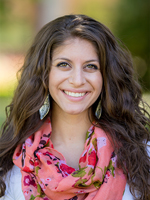 Kelly Hughton is the frontline contact and coordinator for prospective students who visit outside of our events. Last year, she coordinated details for 765 individual visitors, a 20 percent increase from the year before. She also coordinated registration details and special requests for 363 Friday@Fox guests and overnight visits for over 500 students for all types of visits. Beyond these administrative details, she can often be found personally walking late visitors to catch up to a tour, giving tours herself when people can't make set tour times, and arranging special visit activities outside our normal hours for people who can't visit during the week. In every way, Kelly's core work grew in volume this year, and she executed the details with excellence and a willingness to change her systems to handle the increase without more resources or hours.
Kelly is a community servant and friend to many. She has served on the Staff Development Committee and the Serve Day Executive Committee for the past three years. In the undergraduate admissions office, she helps plan retreats and team development initiatives. She proves that leadership is about seeing what is possible and motivating others to come along, regardless of position.
If you don't know Kelly, you are missing out. She is friendly, outgoing, welcoming and cares deeply for others. Most importantly, she has a "secret sauce" – a default attitude of assuming positive intent in others. What if we all had this? It would transform our work and our world.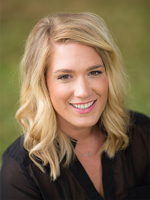 Since 2014, Elise Trask has served our student-athletes and the university community exceptionally well as our associate director of athletics. She is also a graduate of George Fox who played on the national championship basketball team of 2009 that recorded a perfect 32-0 season. Elise loves George Fox and cares deeply about our student-athletes and their experience. She personifies the Be Known promise as a wise mentor to many of our students and others, and carries out her many responsibilities with grace, wisdom, leadership and courage.
Her supervisor, Adam Puckett, writes, "Over my professional career, I have been blessed to work with a lot of talented managers and coworkers. It is not an exaggeration for me to say that Elise is, hands down, the most talented coworker I have ever had the privilege to work with."
Without a doubt, Elise embodies the values and aspirations of our Christ-centered community. Her organization, love for students, servant's heart, attention to detail, humility, strong work ethic, deep love for God and others, and wisdom and insight are important contributions to the ongoing important work and mission of George Fox University!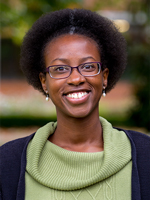 Tiona Cage has served George Fox and our students in a number of roles, including in International Student Services, the Center for Peace and Justice, as a faculty member in social work, and most recently at the Portland Seminary as the associate director of academic advising and community life. In this position, Tiona has excelled in service to students. She has done many of the admissions interviews, and in her time as associate director, the seminary has captured a greater percentage of applicants to matriculate: Enrollment in the masters programs has soared from 35 new students in fall 2017 to 71 new students in fall 2018. She has stepped in to provide training for adjuncts and organize commencement, as well as fall orientation, and is now involved in two grant initiatives: the Wabash Small Project grant for race-critical consciousness and the Lilly Endowment grant for thriving congregations.
Tiona has streamlined and standardized academic advisement and now does course plans and maps out curriculum for all masters students at the seminary – a task that was previously spread to all faculty. Most importantly, she has been a great check and balance to the seminary dean's strategic vision. She asks good questions on the seminary's masters curriculum and around cultural competencies. Roger Nam reports that he is a much better dean because of Tiona, and the seminary students ultimately receive a much better experience.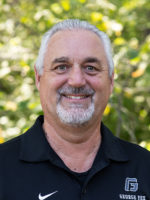 Dave Adrian has served George Fox for the past 39 years, in addition to his time here as a student-athlete. The advancement team saw a number of transitions in both leadership and staffing this year, and Dave was a model of professionalism and stability. He embraced a number of changes and championed the new direction of our fundraising efforts.
It is in no small part that, due to his diligence and commitment to working with donors to support our students and programs across campus, that the fundraising totals for FY19 held steady and we did not see a significant decline in our revenue. This is even more remarkable when we consider that Dave was the only full-time fundraiser for the university for much of the year, and that we were not in an official campaign last year.
Dave lives the Be Known promise and has been an inspiring mentor and friend to not only his colleagues on campus but to many of our students, parents and donors. You will often find Dave spending his free time on campus at the track, field or gym supporting our student-athletes and coaches. He will make fast friends and makes sure to meet and greet every family member and student-athlete in attendance. He also will spend his free time supporting many of the music and arts programs on campus as well.
We are blessed to have Dave represent George Fox University and thank him for the gifts that he shares with us and our community.
Don Powers (Biology) and four coauthors, including George Fox alumnus Joey Canepa, published a research paper, "Hummingbirds budget energy flexibility in response to changing resources," in the British Ecological Society's publication Functional Ecology. The piece discusses how, as resource availability or abiotic conditions change, hummingbirds can adjust how they allocate energy to activities such as foraging, resting and reproduction. This behavioral flexibility in energy allocation may be a key factor in determining free-living animals' fitness in changing environmental conditions.
Leah Payne (Seminary) in mid-August explored what happens when a tradition's unique understanding of calling meets societal norms of leadership in a Christianity Today podcast, "Quick to Listen" with Morgan Lee. In the interview, Payne discusses why women have struggled to advance past the pastorate, the unique ways Pentecostals understand church leadership, and why many Pentecostal churches have pastor couples that lead churches together. You can listen to it here
Paul Anderson (Christian Studies) edited Volume 8 in the Johannine Monograph Series, The Gospel of John in Christian History: Seven Glimpses into the Johannine Community (expanded and revised), published in July by Wipf & Stock. This and the other seven volumes in the series, beginning with Rudolf Bultmann's commentary on John as Vol. 1, were given to the Marburg University Library at the Society for New Testament Studies meetings in August. At those meetings, Paul was invited to respond to a paper in the Philo Seminar with "On Philo, the Via Negativa, and John's Dialectical Theology – A Response to Athanasios Despotis." Paul also co-led a workshop at the on-campus Northwest Yearly Meeting sessions in July on "Speak, Lord, For Your Servant is Listening – Answering God's Call," and he presented a PowerPoint on "Seeing the Word of God – The Illuminative Power of The Saint John's Bible" at the First Christian Church in Portland. Finally, Volume 6 in the Quakers and the Disciplines Series (for which Paul is the founding series editor) – Quakers, Creation Care, and Sustainability (coedited by Cherice Bock) – was published in time for the Friends Association for Higher Education meetings in June, held at Swarthmore College and Pendle Hill Conference Center in Philadelphia. There, Paul presented a paper, "Elizabeth Fry – A Noteworthy Friend." He also preached at Reedwood Friends Church on the topic "Christ-Hymns Then and Now."
Ron Clark (Portland Seminary) has spent the summer directing youth groups from across the country to complete a new houseless community (Agape Village) in Portland. The village will be open this fall and be Portland's sixth community. Visit this link for updated news or for volunteer youth class projects in the village movement to end homelessness.