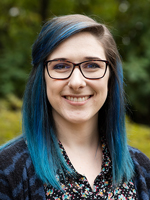 The university welcomes Victoria Holland as an administrative assistant for the Graduate School of Counseling. She worked most recently for the Medical Consultants Network, for which she served as an administrative assistant the past two years. An alumna of the university, Victoria worked as an admissions intern at George Fox during the 2013-14 academic year. She graduated from the university with a bachelor's degree in art, with a fashion design concentration, in 2015. Victoria lives in Newberg with her husband, Chris, and attends Red Hills Church. She is an avid boulderer and rock hunter, and for three months of her life she lived in Seoul, South Korea.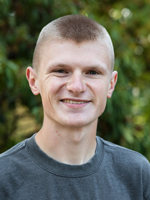 Jared Horton has transitioned from a temporary role to full time as an HVAC preventative maintenance technician in plant services. He has worked as a shop assistant on campus since January, and before that worked in general construction labor for Horton & Company LLC, based in McMinnville. An alumnus of the university, he was a work-study student in George Fox's electrical department (2016-17) and in its custodial department (2015-16). Jared is earning an associate of applied science in building inspection technology credential through Portland Community College, with an expected completion of that program in September of this year. He lives in Newberg and attends Timberline Baptist Church in Sherwood.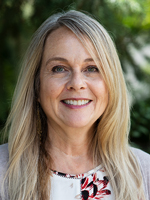 Alumna Lael May has joined the finance office as an accountant. She arrives with an accounting background after working at several large manufacturing firms, including Erickson, Inc., an aircraft manufacturing and operating company based on Portland, and Davis Tool, Inc., a metal machine and manufacturing firm in Hillsboro. She also performed a variety of job functions over 10 years at the Lattice Semiconductor Corporation in Hillsboro, including IT business relationship manager, finance project manager, and as the SOX compliance audit manager. Lael earned a bachelor's degree in accounting from George Fox in 2004. She lives in Beaverton with her husband Rick, their Jack Russell Terrier Paprika, and Maw the cat. The Mays have six adult children and four grandchildren, with whom they spend a lot of free time riding quads and dirt bikes throughout Oregon. Their church home is Westside: A Jesus Church.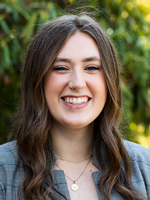 The IDEA Center welcomes Nadine Pasin as an office coordinator. An alumna of the university, she's worked as an office administrator for Natural Health Works, a naturopathic practice in Oregon City, since December of last year. She graduated from George Fox with a bachelor's degree in interdisciplinary studies, with concentrations in studio arts, English, and organizational communication, in December of 2018. While a student, Nadine was a student career specialist (2017-19), a marketing intern (2018), and a teacher's assistant (2018), all in the IDEA Center. Nadine lives in Oregon City and attends Athey Creek Christian Fellowship in West Linn.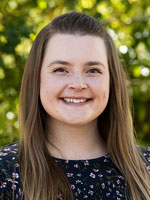 The student life office welcomes Amy Reeves to serve as an area coordinator for the Edwards and Gulley halls as part of residence life. For the past year she has worked as an academic enrichment coordinator at Mount Vernon Nazarene University, where she facilitated guidance for a staff of 75 student workers and oversaw peer tutoring and academic peer mentoring while assisting with student success coaching. Before that, from 2014 to 2018, Amy was a resident director at Mount Vernon. Concurrently, from 2013 to 2017, she was the university's residence life coordinator, overseeing the school's housing process. Before that, she was a resident assistant at Mount Vernon (2009-13). Amy earned a bachelor's degree in social work from Mount Vernon Nazarene in 2013 and is currently enrolled in the Masters of Higher Education program at Geneva College, with an expected completion in 2020. She lives in the Kelsey House with her husband, Micah, and dog, Bane.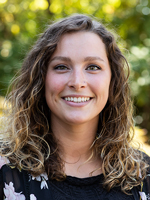 Athletics welcomes Jenéa Shoemaker as the assistant director of sports information and marketing. She has worked the past year as a communications intern for the Pennsylvania State Athletic Conference, serving as the assistant to the director of strategic communications. Among her duties were promoting the 23 Division II athletic programs sponsored by the conference through maintenance of its website, and producing and maintaining social media content for the largest Division II conference in the country (17 institutions). The year prior, she worked as a sports information intern at Mansfield University of Pennsylvania, where she worked with 13 DII programs and acted as the primary contact for women's soccer, men's and women's cross country, women's basketball, men's and women's track and field, and softball. Jenéa earned a bachelor of business administration degree in sports management from State University of New York at Canton in 2018. She lives in Wilsonville.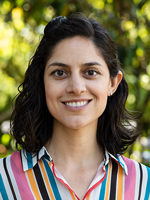 Portland Seminary welcomes Gaby Viesca as its director of strategic planning and outreach. For the past five years she has worked as a women's pastor at Cedar Mill Bible Church in Portland, where she contributed to the overall leadership, direction and vision of the church while also leading its women's ministry. Previously, she served as a church leadership consultant at Centro Biblico Neguev in Beersheva, Israel (2012); cofounded and directed a Christian leadership nonprofit organization, Lideres con Valor, in Monterrey, Mexico (2010-11); and worked designing global strategies at General Electric in Monterrey, Mexico (2008-10). She holds a master's degree in biblical studies from Regent University (2014) and a bachelor's degree in international business from the Universidad de las Americas in Puebla, Mexico (2007). Gaby lives in Portland.
Shereen Hullum (Social Work), Kelly Carlisle (Education), Matt Sargent (Registrar), Sarah Southworth (Business), Tyler Welker (Cinematic Arts), Matt Dyment (Residence Life), Collin Cram (Athletics) and Joe Thouvenel (IDEA Center) are no longer at the university.
Custodial services' Kathy Dexter, Kera Hallman, Joshua Howlett, Christina Kiefiuk Yates, Teresa Lamm, Glory Lehman, John Libemday, Laurie Lorenzen, Jeff Marble, Tahlia Martin, Caleb Wheelock and Mike Wirta are no longer at the university.