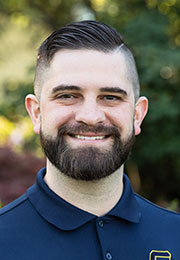 Michael Simmons, formerly manager of the Bruin Store, has been hired to work as a graduate admissions counselor in the Enrollment and Marketing department. He makes the change after working in the Bruin Store for the past four years. Michael and his wife, Liz, both work at George Fox. Liz is an area coordinator and associate director of residence life, and they live on the Newberg campus with their daughter Bina (age 4) and son David (age 1). Michael holds a bachelor's degree in sociology from Lee University in Tennessee and a master's degree in intercultural studies from Asbury Theological Seminary in Kentucky. Michael is also on staff at Journey Church in Sherwood, and he and Liz will be ordained as elders in the Free Methodist Church this summer.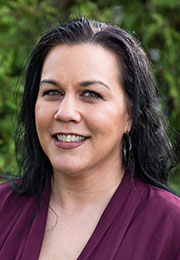 Samantha Parrish recently joined the university's Campus Public Safety office as a senior public safety officer. She arrived from Providence Health & Services of Portland, where she was a lead security officer from 2014 to 2018. She also worked previously as a school public safety officer at Jesuit High School in Portland (2013-14). Samantha has extensive mental health and crisis intervention training. She also worked as a public relations manager for Voices Set Free of Hillsboro (2015-17), providing community education to professionals and community members about domestic violence. Previously, she was franchise owner and manager of an Ultimate Tan & Med Spa business in Cornelius, Oregon (2004-13) as well as owner of A Confidential Investigation in Beaverton (2005-09). She attended Clackamas Community College, working on an associate's degree in human services, and recently transferred to Liberty University, where she is working on a bachelor's degree in criminal psychology. Samantha moved back to her hometown of Newberg in the summer of 2018 with her fiancé, Paul Cooley, a senior police officer with the Newberg-Dundee Police Department. They plan to marry in the fall of 2019 and have four children between them: Shannon, Shelby, Matt and Matthias. The Parrish-Cooley family attends St. Francis Catholic Church.
Mike Meek (Athletics) has left the university.