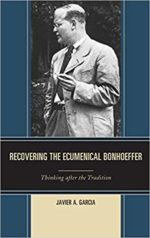 Javier Garcia (William Penn Honors Program) released a book, Recovering the Ecumenical Bonhoeffer: Thinking after the Tradition (Lexington Books/Fortress Academic), this month. In it, Javier explores the possibilities for Dietrich Bonhoeffer's theology to revitalize interest in the ecumenical movement and Christian unity today. Although many commentators have lamented the waning interest in the ecumenical movement since the 1960s, the celebration of the 500th anniversary of the Protestant Reformation in 2017, coupled with recent in-roads such as the ecumenical efforts of Pope Francis, have opened new possibilities for the ecumenical project. In this context, Javier presents Bonhoeffer as a helpful model for contemporary ecumenical dialogue.
Randy S. Woodley (Seminary) in October traveled to Nova Scotia to give the prestigious Hayward Lectures at Acadia Divinity College, the first George Fox professor to be extended that invitation. The lectures provide academic dialogue to stimulate critical engagement and reflection on key and emerging ideas in church history, Christian theology and biblical studies. The school hosts the event to give world-class scholars in the aforementioned disciplines the opportunity to present their freshest work and emerging or disruptive ideas in the formats of lecture, conversation and writing. While in Nova Scotia, Randy also spoke at the Acadia Chapel service, addressed Acadia faculty, engaged in several interviews, and preached at St. Andrews United Church of Canada in Halifax. The lecture series was entitled "Indigenous Theology as Original Instructions and a Critique of the Western Christian Worldview."
Jennie Harrop and Rae Casey (Department of Professional Studies) have spoken at two conferences this fall on behalf of the university's degree completion programs. On Oct. 4, the two offered a discussion titled "Ensuring Excellence: Training, Mentoring, & Affirming Adjunct Faculty in Degree Completion Programs" at the 2019 Leadership in Higher Education Conference in St. Louis. On Nov. 7, they presented a session, titled "More Than Just Basket-Weaving: The Challenge of Marketing Adult Ed to Colleagues, Administrators, and Those Who Hold the Purse Strings," at the 2019 Council for Adult and Experiential Learning Conference in Chicago.
Brenda Morton (School of Education) and Anna Berardi (Graduate School of Counseling) are celebrating the wide reception of their open access textbook, Trauma-Informed School Practices: Building Expertise to Transform Schools. Released in September, it currently has more than 1,000 downloads, including at 120 institutions in 25 countries. The text identifies trauma-informed educator competencies and how these advancements invite systemic change involving all who are committed to K-12 education.
Ed Higgins' (English Faculty Emeritus) poem, "Lattés," appears in the "Coffee" section of Issue 49 (October 2019) of Hong Kong's Voice & Verse Poetry Magazine. Ed also published a flash fiction story, "Arion, The Poet," in the current online issue of Mediterranean Poetry (Oct. 26, 2019).
Megan Fisher (Parent and Family Programs) recently presented an educational session, entitled "Happy Little Accidents: Maximizing Campus Connections in Times of Transitions," at the 2019 Association of Higher Education Parent/Family Program Professionals' national conference. Fisher's session explored how today's changing attitudes toward higher education is forcing universities to maximize staffing while still continuing to provide consistent quality programming. She encouraged attendees to utilize campus networks and look for innovative opportunities to weather these changes in order to provide better collaboration, more opportunity to engage in healthy parent/student relationships, and increase diverse voices. Her session was one of 32 sessions chosen from 68 applicants.