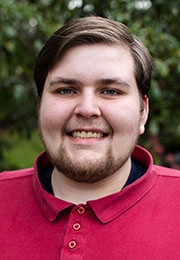 Ethan Moss, an alumnus who studied in the university's William Penn Honors Program and earned a bachelor's degree in computer science in 2018, has been hired as a systems administrator in IT. He has worked as a programmer in the department since August and, from 2014 through 2018, he worked as a programmer with the school's data analytics team. As a student, Ethan was involved with the Urban Outreach program and a member of the University Innovation Fellows in 2016-17. He lives in Newberg and attends Chehalem Christian Fellowship.
Beronica Salazar (Graduate Counseling), Valerie Sherwood (Library) and James Dezellem (Plant Services) have left the university.
Kathleen Jones (Library) has retired from George Fox after working at the university for 23 years.