The Graduate School of Counseling has hired an alumna and former adjunct instructor, Unique Page, to serve as director of the Individual & Family Matters Counseling Clinic and to teach courses. A Licensed Professional Counselor in Oregon, Unique has worked for the past year as an assistant professor in Multnomah University's Graduate School of Counseling while also working, since 2016, as a therapist at a private practice, UP Counseling in Tigard. She has also taught at George Fox on an adjunct basis for the past three years. Her previous experience includes working as a resident therapist at the Saint Child maternity home in Beaverton (2015-17) and as a mental health clinician with Community Services Northwest in Vancouver, Washington (2014-16). Unique is currently enrolled in Oregon State University's PhD in counseling program, and she holds a master of arts in marriage, couple and family counseling from George Fox (2014) and a bachelor's degree in psychology from Loyola Marymount University (2009). She lives in Tualatin with husband, Rev. Sean Page, and attends Grace Chapel in Wilsonville.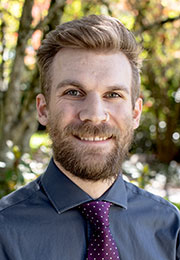 After a two-year hiatus, John Kaye has returned to the university to work as a student accounts specialist. He worked previously for George Fox as a financial aid and communication specialist in 2015-16. Since 2016 he has been enrolled in the Oregon Institute of Technology's bachelor's degree program in software engineering technology, which he plans to complete in June of 2020. Previously, John worked as a technical support advisor for Xerox in Tigard (2013-14) and as a teacher with Evangelical Friends Mission in Kigali, Rwanda (2009-10). He lives in Newberg with his wife Johanna, director of financial aid at George Fox. They are expecting twins in March.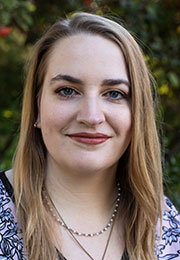 The university welcomes Julia James to serve as coordinator of the Academic Resource Center. She has worked the past year as an instructor and tutor at George Fox. She taught Writing Portfolio Development last spring, and over the 2017-18 academic year she taught Knowing and Being Known and Writing Studio. Previously, Julia taught primarily history courses for Syracuse University between 2012 and 2016. She holds a bachelor's degree in history education and music education from Pensacola Christian College (2008), a master's degree in history from Central Washington University (2011), and a master of philosophy degree from Syracuse University (2013). She is currently a PhD candidate at Syracuse. Julia lives in Vancouver, Washington, with her husband, Kris, and is part of a congregation of believers called The Gathering Place.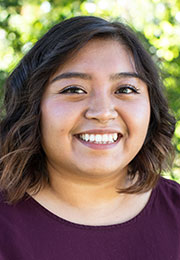 Marina Alcala-Medel has joined the advancement office as a gifts and data entry specialist. She has worked in the position as a temp since August of 2017 and was recently hired to work part time. Prior to her arrival at George Fox, she was an engineering intern with Engineering Ministries International, working in the Nicaragua office, and with the Hoffman Construction Company in 2016-17, getting to be a part of the Nike WHQ expansion project. Marina earned a bachelor's degree in engineering, with a civil engineering concentration, from George Fox in 2016. During her time at the university, she worked in various work-study positions, including as a research and data assistant in the Office of Advancement for two years, as a Spanish Chapel coordinator, as a Spanish department assistant, and as an activities assistant coordinator at Friendsview Retirement Community. She lives in Aloha and attends Iglesia de Cristo Agape and Christian Church of Hillsboro, where she functions as the youth ministry leader.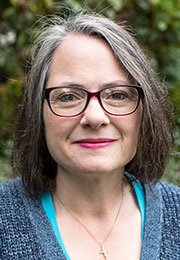 Jennifer Salzman joins George Fox as director of exhibitions and the university's art collection. For the past 11 years she has served as director of the Lane Community College Art Gallery, where she managed 16 exhibitions each year and hosted artists from around the country. Concurrently, she has worked as an adjunct faculty member for LCC's art department since 2005, teaching courses in basic design, drawing, photography and photo journalism, among others. Jennifer also taught art on an adjunct basis at Linn-Benton Community College in 2015-16, and from 2006 to 2010 she helped develop and work with the Integrated Arts program that brought together art and academic courses at various high schools in Eugene and the greater Lane County area. She earned a master of fine arts degree from the University of Minnesota in 1999 and holds a bachelor's degree in art education from the University of Wisconsin-Stevens Point (1995). She lives in Creswell, Oregon, with her husband, Andreas Salzman, a tenured professor at Lane Community College. Together, they have three daughters: Madeline Mary Salzman (26), Olivia Nicole Coon (24), married to Josh Coon, and Amelia Rebecca Salzman (22). Jennifer and her husband attend St Mary's Catholic Church in Eugene as well as annually at the Church of Saint Peter in York, England.
Terri Crawford (Financial Aid) has retired from the university after 25 years of service to George Fox.