Kanopy is a video-streaming platform provided by the George Fox Library that gives access to thousands of feature films, documentaries, and educational videos across a wide variety of subjects.
Recently the library added an additional 10,000 videos to our subscription and the George Fox community now has access to over 14,000 videos.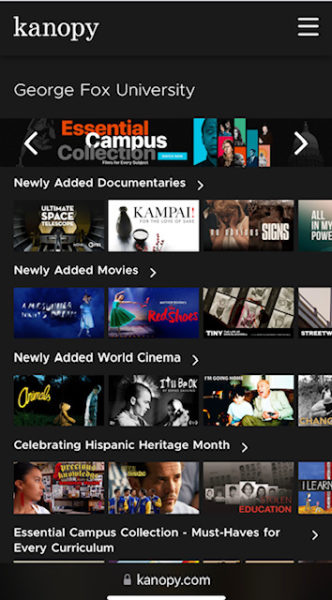 With 4,932 visits to Kanopy in the past year alone, it is a popular resource with George Fox students and staff.
Kanopy videos are required viewing in many courses either as homework or during class. In addition, it's nice to unwind with a good documentary or Oscar winning film sometimes.
Our top 10 suppliers in order of usage are:
Psychotherapy.net
New Day Films
The Great Courses
California Newsreel
Video Project
International Centre for Excellence in Emotionally Focused Therapy
Chambon Foundation
Symptom Media
The Representation Project
HBO Documentary Films
Kanopy is available via an array of apps on the TV, phone, tablet, and computer.
A Kanopy app is currently available for the TV devices below.
Apple TV and Airplay
Amazon Fire TV
Android TV
Samsung Smart TV
Roku
Telstra TV
Chromecast
If you do not have access to any of the above devices, you can also view Kanopy on your television by connecting your computer to your television via HDMI cable.
MOBILE APPS – A Kanopy app is currently available for the mobile devices below.
iOS devices
Android devices
Amazon Fire tablets