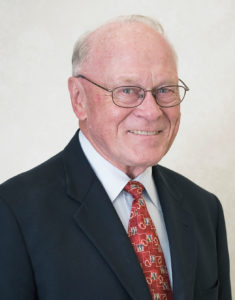 In 1998, George Fox inaugurated Dr. David Brandt as President Stevens' successor. Brandt had been president at Mount Tabor College in Kansas before accepting the position and had previously taught at three other Christian universities. Serious but humble about his new leadership role, Brandt stated at his inauguration that he would succeed only with guidance from God and support from the Fox community.
One of President Brandt's primary goals was to prepare the university to provide a modern education. To implement the improvements that the campus would need to thrive, a massive fundraising campaign was in order. His administration initiated an extensive "Legacy Campaign" to increase the endowment, improve campus technology, boost financial aid, renovate the historic Wood-Mar Hall, and build the Stevens Center. The campaign was a success and the $25 million raised by 2003 launched improvements for the next decade of the university.
Brandt inaugurated the first Serve Day in 1999. In 2019, the university held its twentieth-first Serve Day.
President Brandt's ambitious goals for the university were facilitated in a number of ways. In 2004, the board authorized the construction of a new residence hall which would become LeShana Hall. The remodel of the Hoover Academic Building was completed in the fall of 2006. Meanwhile, the university purchased the former Newberg Hospital property, located next to the HMS dorms, and began its conversion into the Roberts Academic Center.  Along with renovations, President Brandt oversaw the creation of a new master plan to expand and update campus. 
Fun Fact: In 2006, Sean Penn filmed part of Into the Wild on 3rd floor Macy.
Brandt saw himself as a program man who valued students' education above everything else. His aim with campus expansion was to provide as many resources as possible to old, new, and potential departments.
During these years, GFU regenerated its campaign for diversity. It established a Blueprint for Diversity based on the idea of George Fox making intentional efforts to become a more ethnically and racially diverse community.  This document was inspired in part by Ginean Lewis, a African American admissions counselor who noted that the university lacked awareness regarding other races and ethnicities. The two primary goals of the plan were to make the George Fox experience more inviting for students of color and to enrich the culture of the campus community. Its main points include recruitment and retention of racially, ethnically,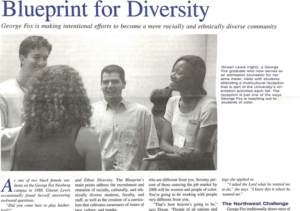 and culturally diverse students, faculty, and staff, and the creation of a curriculum that cultivates awareness of issues pertaining to race, culture, and gender.
In the spring of 2007, President Brandt announced his retirement, leaving his legacy in the form of the Brandt Art Fund, which has supplied much of the art around campus. He would be replaced by the current president, Robin Baker.