Pure and Undefiled – Religion that Challenges Political Stance
We skim through the most recent broadcasts, searching for some sense of normalcy and decorum. However, we're left with sadomasochistic Reality TV. Each candidate entertains our senses and tantalizes our addiction for scandal and intrigue. We purchase our tickets, grab our cotton candy and enter into the circus tent. The curtains close and we're transported. Each act inches us to the edge of our seat and each quip distracts us away from the tragedies of reality. In that moment, we indulge in the fallacies of our preconceptions – in that movement we escape reality in order to excuse our apathy. In that moment, we create Christianity in our own image.
As I delve into the chaos of the political election, I'm drawn back to James 1:27-28:
If anyone considers himself RELIGIOUS and yet does not bridle his tongue, he deceives his heart and his religion is worthless. Pure and undefiled religion before our God and Father is this: to CARE for orphans and widows in their distress, and to keep oneself from being polluted by the world.
Ellicott's Commentary for English Readers defines the term "Religion" within this context as, "Real worship, we may say, pure and undefiled, beheld and acknowledged as such in the presence of God"[1] Do we consider ourselves religious? Do we consider ourselves a Christian nation? If so, what is our definition of Christianity? Is our belief simply a statement on a bumper sticker, an allegiance to God-given rights or something more?
The writer of James dares us to be more than groupies. He dares us to question our allegiance and representation – He dares us to be defined by more than our ballot. He challenges us to have a "PURE and UNDEFILED" religion – a religion that seeks to care about those around us and do more than merely support political parties.
We all strive for real worship – the type of worship that draws us to our knees and compels us to action. However, as I look at the latest Facebook craze and Twitter posts, I can't help but wonder if we're defining worship by our own terms and Christianity through our own reflection.
Eight years have passed since Obama took residence within the Oval Office, yet poverty continues to consume our communities, violence invades our public schools and youth suicides take hundreds each year. What about Obama's promise to create a "Change We Can Believe In"? Trump vows to make "America Great Again", while Hilary declares that she's "Fighting for us." However, what type of America are we trying to create? Will it be built with walls? Will it be won through liberal ideals? Should we even invest in the game?
As I peruse the latest banter and sadistic jabs that highlight the presidential circus, I'm left with questions, concerns, and doubts – not in government, but within my own faith. Where is our hope? What are we aiming to accomplish? Poverty crowds the streets and injustice knocks at our doors – daring us to answer – challenging us to live out the gospel. However, most of us close the blinds and post our political complaints on Facebook. As the election draws near, I'm faced with the reality of our "religion" – a religion that pledges our allegiance to government – a religion that hides behind the curtains of a voting booth.
Before Christ was crucified, he was anointed with oil. The disciples scorned the woman and berated her offering. "Jesus, this is a year's wage! Why waste it on you? We could have used it to support poor!" Christ turned and looked towards them and replied, "Leave her alone. Why criticize her for doing such a good thing to me? You will ALWAYS have the poor among you, and YOU can help them whenever you want to. But you will not always have me."[2] We can blame the government, berate the Democratic or Republican party, or we can step away from our comfort – step away from our apathy and enter into true RELIGION – a religion that is pure and undefiled. We can condemn the White House or realize that we've been walking around like White-Washed Tombs.
Christ commissioned us to be His hope to the world. This responsibility doesn't come with bumper stickers, buttons or fundraising galas. It comes with a price – it comes when we chose to pick up our cross and follow him – when we chose to step out of our comfort zones and invite the love of Christ to compel us into action.
It's been days since the heinous tragedy in Orlando, FL. Innocent souls gunned down – shots fired and lives lost in the name of hate – in the name of religion. As bodies lie on the ground lifeless, Hilary Clinton declares her WAR against guns. As police drag out survivors, Donald Trump declares his WAR against terrorism. As the coroner examines each corpse and declares the deceased, the survivors strive to erase those tragic moments of WAR that haunt their every thought. It's time we stepped away from the politics and stand in the gap with those who suffer. It's time we stop seeing people primarily in light of their sexual identity and instead choose to see that they are our brothers and sisters.
Angel Colon shares his story. As you watch, I pray that you'll see him as a brother, a friend, a son, a nephew and most importantly, a child of God.
For one moment, let's look to be the hands and feet of Christ, instead of representatives of our political party. Let's stop waiting for political change and start being men and women of compassion. Let's strive to look like Christ.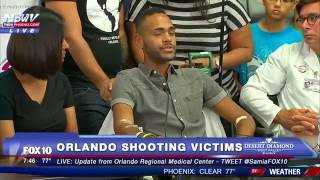 [1] "Ellicott's Commentary for English Readers," http://biblehub.com, accessed June 6, 2016, http://biblehub.com/commentaries/james/1-27.htm.
[2] Mark 14:6-7 NLT
The views, opinions and positions expressed by the authors and those providing comments on these blogs are theirs alone, and do not necessarily reflect the views, opinions or positions of Portland Seminary, George Fox University or any employee thereof. We make no representations as to accuracy, completeness, timeliness, suitability or validity of any information presented by individual authors and/or commenters on our blogs and will not be liable for any errors, omissions, or delays in this information or any losses, injuries or damages arising from its display or use.