Two new databases available through George Fox Libraries offer insight into consumer opinions, buying habits and demographics: MyBestSegments and Simmons OneView.
Both are widely used in the marketing industry and will be of interest to business students of all levels, as well as anyone interested in consumer-related data.
As the information available these databases is geared toward firms in the private sector focused on consumer segmentation and is high-quality, access is limited to five simultaneous users.
Use one of five user logins to access.
Every household in the U.S. is categorized into one of 50+ "segments" defined by demographic and lifestyle. Lifestyle traits include type of car driven, stores frequented, vacation destination, entertainment choices, etc.
Users can either search by zip code or specific segment.
Here is a zip code search for 97132: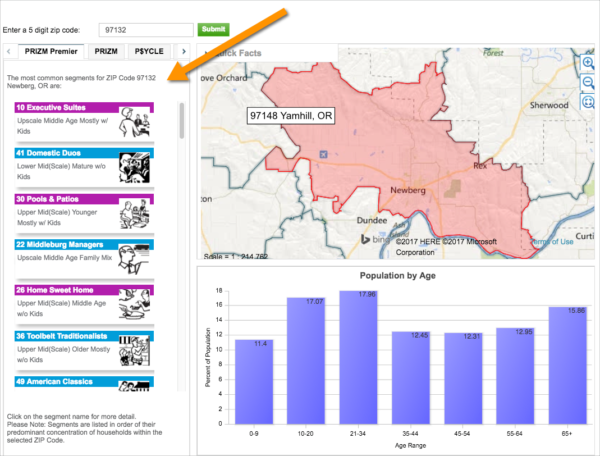 The top segment in zip code 97132 is "Executive Suites:"
"The residents of Executive Suites tend to be prosperous and active professionals who own multiple computers, large-screen TV sets, and are above average in their use of technology. Executive Suites also enjoy cultural activities, from reading books to attending theater and watching independent movies."
Median Household Income: $81,509
Owns a Mazda
Eats at Starbucks
Shops at Express
Plays tennis
Stays at Radisson
Visits NHL.com
Listens to Adult Contemporary
More: http://libguides.georgefox.edu/bus/mybestsegments