The MLRC greatly enjoyed hosting the Saint John's Bible during it's yearlong exhibition at George Fox University.
Special thanks to Dr. Paul Anderson for the honor.
=======
As part of his series titled "Seven Days with Pope Francis and The Saint John's Bible," Dr. Paul Anderson will be sharing briefly on each of the texts in the SJB every day at noon in the MLRC this week (September 21-25).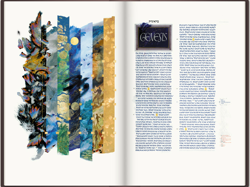 In addition he'll be writing up a "feature for the day" for media publication.
Paintings and texts to be discussed:
Monday (9/21) Creation (Pentateuch vol. – Genesis 1:1-2:4a)
Tuesday (9/22) Abraham and Sarah (Penateuch vol. – Genesis 15:1-7; 17:1-22)
Wednesday (9/23) Ten Commandments (Pentateuch vol. – Exodus 20:1-26)
Thursday (9/24) Peter's Confession (Gospels & Acts vol. – Matthew 16:13-23)
Friday, September 25 Multiplication of the Loaves and Fishes (Gospels & Acts vol. – Mark 6:33-44; 8:1-10)
Saturday (9/26) Two Cures (Gospels & Acts vol. – Mark 5:25-43)
Sunday (9/27) Pentecost (Gospels & Acts vol. – Acts 1:6-11, 2:1-47)
All are welcome to attend.