By the 1930s, the Oregon Yearly Meeting was split over the direction of the Friends Church and Pacific College.  Many  believed  increasing focus should be placed on revivals and evangelism rather than the more traditional Quaker emphases on social justice and reform.  As President Pennington resisted this trend,  some in the Yearly Meeting reduced their financial support for the college.
A major challenge to the college came from Portland Bible Institute (later Cascade College) in Portland.  It had been founded by Piedmont Friends Church (Portland) and was strongly influenced by the more evangelistic focus within the Quaker community.  By the late 1930's, the Oregon Yearly Meeting equally split their students between the two colleges.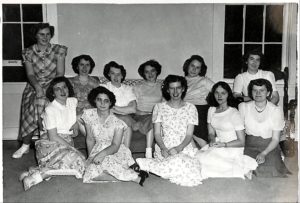 Another challenge to the college came from World War II as men volunteered, served as conscientious objectors, or were drafted.  Enrollment dropped from 129 students in 1941 to 62 in 1943.  However, with the creation of the G.I. Bill, enrollment reached record numbers by 1947.  The student body expanded to 162 students.  As relations with the Yearly Meeting improved, the number of Friends students increased to 75% of the students by 1950.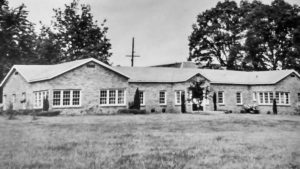 This growth created the need for new buildings.  The Science Hall (now Brougher Hall) was constructed.  Used military barracks were purchased at low cost  to create a new dining hall as well as the arts and music buildings.  In addition, Hester Gym (now the Ross Center) was built in part with labor provided by the staff and students.
Fun fact: Other names in the running included Champoeg Friends College, Herbert Hoover College, Northwest Friends College, and Peace College.
In 1949, the college decided to change its name.  Pacific College was frequently confused with several other schools in the region.  After reviewing a long list of potential names, the trustees decided on George Fox College, honoring the 17th-century founder of the Quaker faith.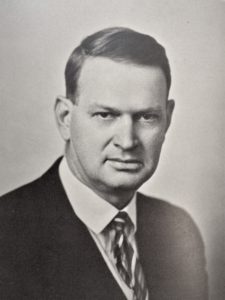 President Pennington resigned in 1941 after thirty years of serving Pacific College.  He remains the longest serving president in the school's history. Emmett Gulley, a 1917 Pacific graduate, was appointed at Pennington's suggestion.  After Gulley's resignation in 1947, the challenge of university leadership fell to Dr. Gervas Carey (1947-50) and Dr. Paul Parker (1950-52).  For the next two years the school lacked a president, as trustees struggled to find someone who would willingly accept the role.  By 1954, enrollment had dropped to just 98 students.  The college was deeply in debt.  In addition, the college had lost accreditation.  George Fox College was in desperate need of a visionary leader.