Making a Point or Making a Difference?
While in Divinity school after several of us had shared an interest in starting home churches, the professor challenged us when he said, "Just remember, it takes systems to change systems." That concept has lingered with me ever since, and I believe that is one of the main points Greg Satell is getting at in his book, Cascade. If we want to make a difference rather than just a point,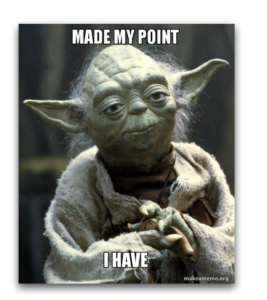 we need people. We need all kinds of people in various positions with diverse levels of influence to make a greater impact. However, this approach seems to require more wisdom, creativity, humility, patience, and understanding.
Initially, this book challenged me to think through some scenarios regarding how I approach issues and problems. I'll typically notice a problem in the world that needs attention then look for ways to solve it. That's kind of what our NPO's are all about! We are seeing needs and problems in our parts of the world and are diligently finding creative ways to fix, or relieve some tensions around, them. The parts of this book that still has my wheels turning a bit is how we frame our solutions. Are we resisting and fighting against something or crafting a hopeful vision for something, like a cause most people can get behind, even if everyone does not see eye to eye on every detail of the issue.
I couldn't help but grab my, What's Your Problem, book by Thomas Wedell-Wedellsborg to get some reminders about how to better frame problems and solutions. Thomas says, "Putting focus on the obstacle-how do we get around it?-prevents us from questioning a more important thing: the goal we're trying to reach."[1] This helps see the big picture and puts the emphasis in a healthier place.
Some questions I am asking myself about building solutions:
Am I crafting a vision or cause that a diverse amount of people would share or get behind?
Most of us want love, justice, freedom, security, equal opportunity, to be heard, belonging, peace, and happiness.
Does my solution focus more energy on negative or hopeful aspects of the issue?
Mother Teresa allegedly claimed she would never attend an anti-war rally but would gladly accept an invitation to a pro-peace one. There is a temptation to draw most of our attention to the grievances rather than painting a brighter future. Do we rid ourselves of something negative without having something available and healthier to fill the void?
While identifying the problem and fighting for a cause am I alienating some groups unnecessarily?
Greg, while describing successful activism, says, "So the activists designed their tactics to appeal not just to fellow travelers, but also to everyone else."[2] Satell says we need networks, which includes support from allies and from people who are either skeptical or neutral about the issue at hand. This challenges me to frame the solution to the problem at hand in a way that conveys more value for more people.
Wedellsporg goes on to say that reframing helps build a healthier society, "Solving conflicts in a sustainable way requires people to find common ground with their adversaries-and that often starts by figuring out what problems people are trying to solve, rather than fighting over solutions."[3] Most people are ultimately striving for the same things, (happiness, opportunity, health, order, freedom, human rights, etc.) we just have very different ways in which we think the problem should be solved. However, even recognizing this reality can soften the heart toward those on the other side of political, social, or religious issues and hopefully allow us up to listen to one another to find the best solutions.  It also reminds me that we have more in common than it would appear sometimes, especially as we scroll through social media.
Attempting to think through my NPO, considering this approach, takes the type of system 2 thinking that Daniel Kahneman discusses in his book Thinking Fast and Slow. It requires way more concentration, focus, and mental energy. [4] It also hinges on listening to more people to overcome objections and identify underlying fears that may surface as the issues at hand are addressed.  Making a difference, rather than just a point takes work!
Have a great summer everyone, grateful to be on this journey with you all and see you in Oxford!!
[1] Wedell-Wedellsborg, Thomas, What's Your Problem? To Solve Your Toughest Problems, Change the Problems You Solve, (Boston: Harvard Business Review Press, 2020), 70.
[2]  Satell, Greg, Cascades: How to Create a Movement That Drives Transformational Change. New York: McGraw-Hill Education, 2019.
[3] Wedellsborg, What's Your Problem, 22.
[4] Kahneman, Daniel. Thinking, Fast and Slow. 1st pbk. ed. New York: Farrar, Straus and Giroux, 2013.
8 responses to "Making a Point or Making a Difference?"